The first 3 months of 2023 confirmed that downtown high rise office buildings are suffering a loss of tenants to Metairie and Kenner. During Covid, from 2020 to 2022, the common hypothesis was that employees would learn to work from home and employers would adapt their processes and controls to accommodate the change. In 2023, we are seeing confirmation that the expectation is proving to be fact. The result is a collapse in rented office space downtown because employers are renting office space in Metairie and Kenner rather than downtown New Orleans, resulting in a $30,000,000 loss due to vacant office space for downtown high rise office landlords. Every year.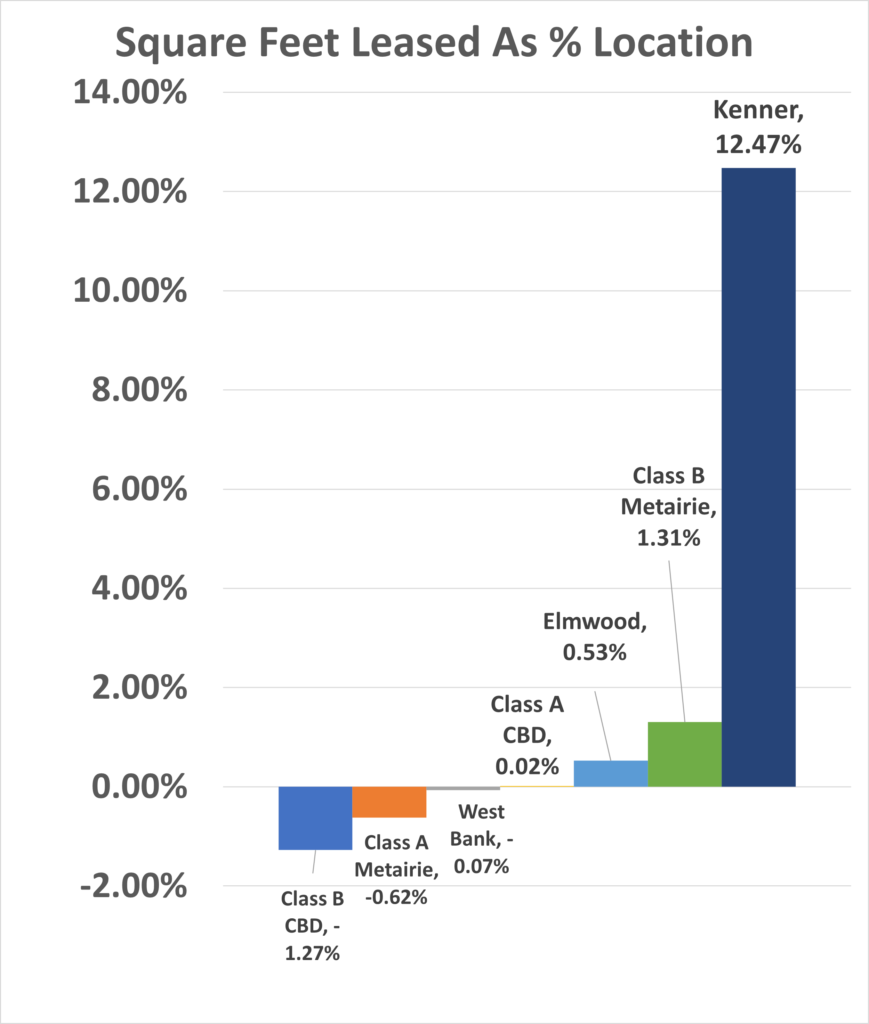 The first 3 months of 2023 saw the total New Orleans downtown Class A office market only lease 1,720 net square feet, while in Kenner 27,838 square feet was leased and in Metairie 19,575 Class B square feet was leased. While the quoted rates for downtown Class A space average $20 per square foot, Metairie Class A averages $24 and Kenner averages $19, often much lower rates plus a tenant improvement allowance can be negotiated when new tenants lease in buildings that have a high vacancy.
Where Is The Highest Vacant Office Space?
Kenner has the lowest occupancy rate at 70%, compared to 89% for the highest occupancy rate, not in the Class A CBD office buildings but in the Class B Metairie office buildings. The Class A office rate averages $20/SF compared to the Class B rate averaging $16/SF.
Market Share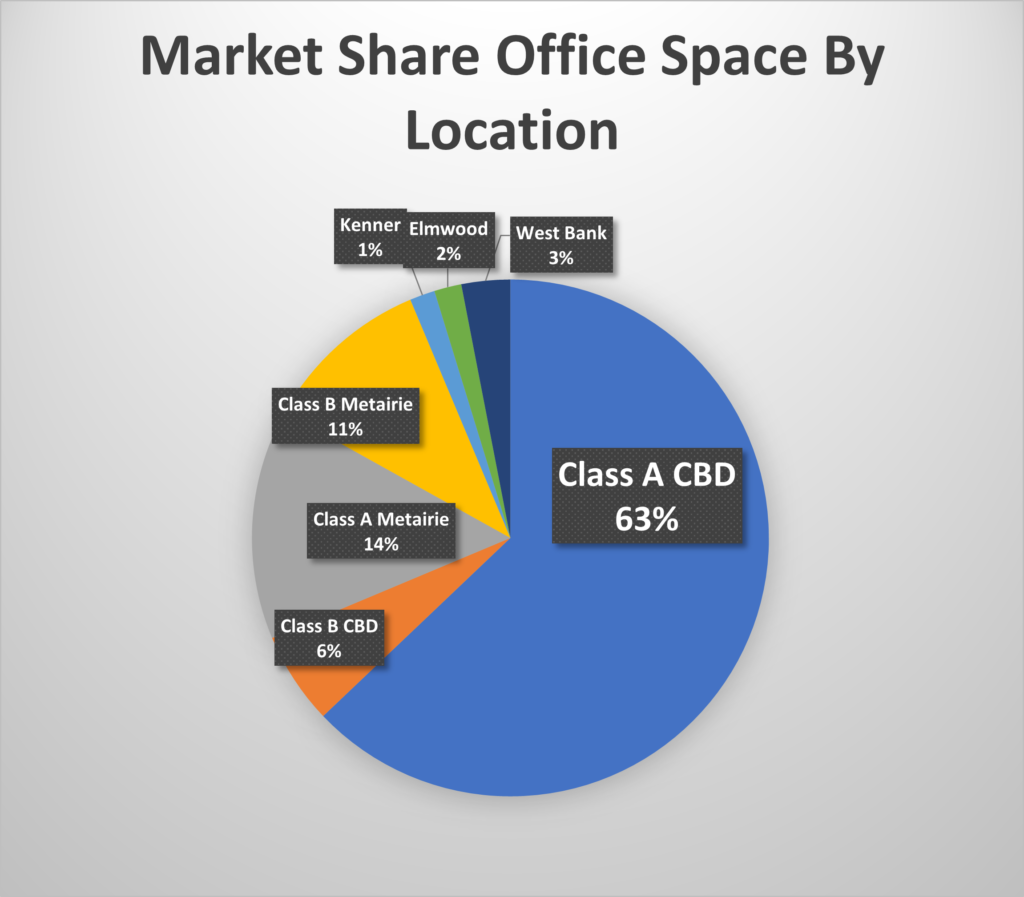 The office market in the New Orleans/Metairie/Kenner area totals 14,000,000 square feet, dominated in size by the downtown Class A office space which is two-thirds of the market. Metairie only has 14% of the market and Kenner only 1%, so their impact of taking space away from downtown may not initially be felt; however, the vacant space outside the downtown market totals over 4,000,000 square feet which could lead to heavy price competition. Normally, in a competitive market, a shift in demand causes a fall in prices until they reach equilibrium. In the office market, that seems to be between $16 and $20 until the vacant space is no longer available.
Summary
In summary, if you lease office space, now is the time to check out alternative spaces and negotiate a rate that can lower your rent expense which can make your business instantly more profitable. You can find commercial real estate agents to represent you who are trained in negotiating and have years of experience. Just look for the CCIM or SIOR designation, which means they are the most qualified in the industry and may specialize in the office leasing market.
---
CCIM Designation: CCIM designees must have proven experience, such as closing ten qualifying activities totaling $10 million or more and completing several years of training culminating in a 6 hour comprehensive exam.
SIOR Designation: SIOR is a Washington, DC-based international professional organization of 2,600 commercial real estate agents who completed at least five years of creditable experience in the highly specialized field of industrial or office real estate, meeting stringent education requirements and demonstrating ability, competency, ethical conduct, and personal integrity.