Recently nola.com staff writer Blake Peterson reported on the future development possibilities for the largest land site to become available in Metairie, and interviewed Louisiana Commercial Realty on future possible uses and insights. The 8 acre site currently is the Haynes Academy and is one of 174 properties owned by the Jefferson Parish School Board since 1909 who will demolish the buildings at a cost of $300,000 and put the land on the market for sale. The property has an unusual boundary, with a triangle shaped 2 acres including 550 feet fronting Metairie Road connecting to 6 acres in a rectangle shape fronting the Magnolia Drive side street.
Property Surrounded By Highest Income Population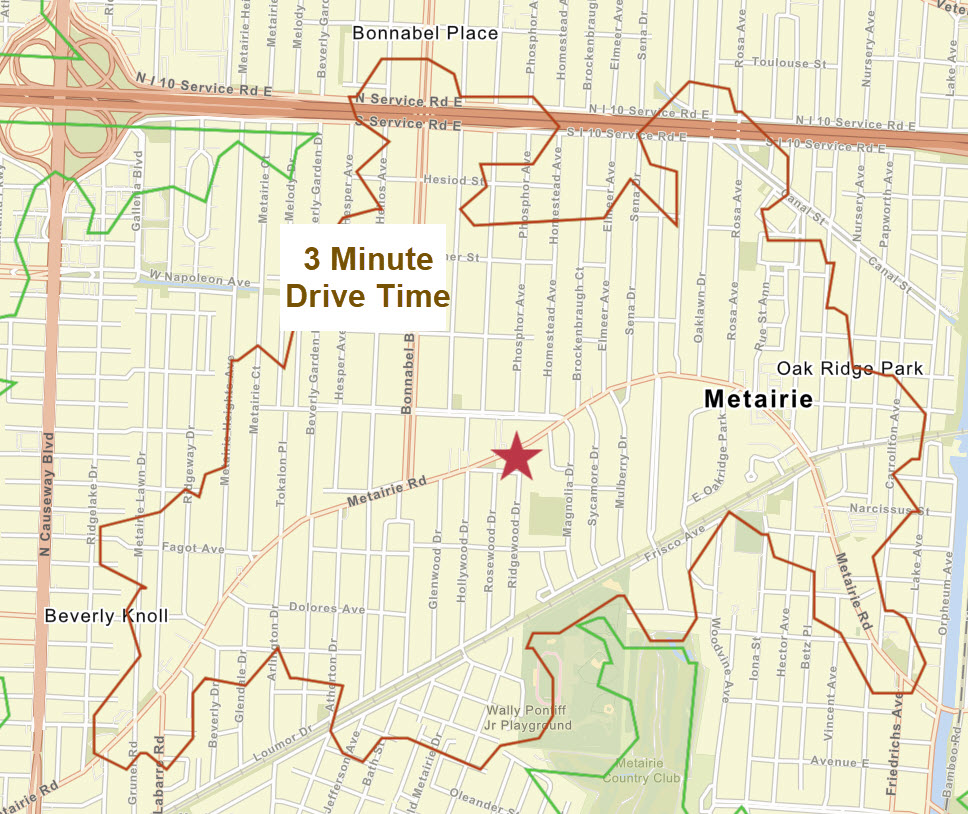 Within a 3 mile drive time, the 8,600 residents have the highest income in the New Orleans MSA, with an average household income of $145,000 annually. The median age is 46 and 54% have household incomes exceeding $100,000. This makes the property attractive to retail stores that offer high-end products and, since these products are the most profitable, this means those stores have a business model that allows them to pay higher than normal rent, which means the developer who buys the land and develops the stores then rents them to the retailers can afford to pay a higher than normal price for the land. So this land sale is destined to be the highest dollar per square foot sale in the area.
Residential Zoning Prohibits The Most Profitable Use
The property is zoned R1-A, Single Family Residential but the Future Land Use Zoning is Suburban Residential for the 6 acre rectangle and Mixed Use Zoning for the 2 acre triangle fronting Metairie Road. Zoning districts regulate the type of business that can operate from the property and Land Use dictates what goes on the land. The property also has an overlay called MRTPD, Metairie Ridge Tree Preservation District which requires a Tree Protection Plan and parish arborist review and a separate permit to be submitted.
Summary
The highest and best use would be to development the Mixed Use 2 acre triangle as retail stores since 550 feet fronts Metairie Road, providing easy access, high traffic and visibility to retailers. The remaining 6 acre rectangle would have to be single family homes, but the land could be worth twice as much to the School Board at sale if they could get the zoning changed to R-3 zoning which is multi-family and allows apartments which are more valuable than single family homes to a developer. The neighborhood would be against apartments because of the traffic but if the property could be designed to have access to the apartments from Metairie Road which would alleviate traffic, the residents might go along with it.
---
For more information on zoning, read our article "Commercial Real Estate Zoning For Dummies".