The Certified Commercial Investment Member (CCIM) designation is the premier recognition earned by the top 10 % of commercial real estate agents. With 13,000 members in 55 chapters, both in the United States and in 30 countries, the organization provides training in the most complex strategies of commercial real estate. The organization is the PhD of real estate, taking several years to complete and culminating in a 6 hour final exam on every aspect of commercial real estate.
CCIM recently interviewed Louisiana Commercial Realty on the state of the New Orleans commercial market in 2023:
CCIM:
The New Orleans/Louisiana area has seen its share of difficulties in the past few decades—from natural disasters to broader economic troubles. What is the state of the commercial real estate market in early 2023?
Louisiana Commercial Realty broker Robert Hand:
Actually, the New Orleans commercial real estate market has been evolving since the 1970's. When the oil economy was strong back in the 60's and 70's, there were lots of new jobs in the oil industry which created demand for office space over the next decade. In the 1980's, downtown New Orleans saw vibrant new construction of Class A office towers and towns near the Gulf of Mexico witnessed the explosion of industrial space. Our biggest building was One Shell Square, a 51 story, 700 foot tall, office tower.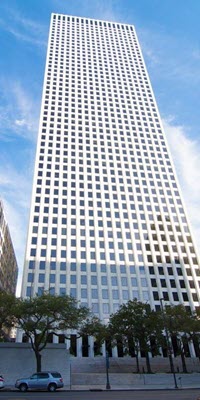 Then the oil industry started regionalizing and New Orleans downsized while Houston upsized. There hasn't been a large office tower built since then in New Orleans and even today we have high vacancy rates in Class A office towers. The smart thing city leaders did in the 1980's was build a large convention center so we were able to compete with tourism based economies like Las Vegas. Basically, we swapped $150,000 petroleum engineers for $35,000 waiters and waitresses, but today we are one of the smaller markets that can feed, board and entertain 25,000 dentists having a national convention. Even though the tourism market has ebbed and flowed, we have the nation's best restaurants and the perfect work force for tourism, so the hotel and restaurant market has been vibrant despite the Covid hiccup.
CCIM:
You've handled deals in all major sectors of commercial real estate: Office leasing, Shopping Center, Apartment and Hotel sales, Industrial sales and Retail leasing. What's the key to staying flexible and agile enough to be active in industrial, retail, multifamily, and so on?
Louisiana Commercial Realty broker Robert Hand:
You have to be an expert at what drives each market and know what your clients want. You have to be creative. We negotiated one of the largest office leases a while back but the tenant wasn't an office user. They were a hotel. We figured out how to market 3 floors of vacant office space in a soft market to a hotel franchisee. And last year, one of my competitors, SRSA, figured out how to transition a boring shopping center's vacant Sears store into a major hospital in a $50 million dollar investment.
CCIM:
Your firm emphasizes its use of new technology and data as a way to gain a competitive edge. How important is it for your business to stay on the cutting edge of tech?
Louisiana Commercial Realty broker Robert Hand:
It is vital and I wish we would have caught on to it earlier. There is lots of technology out there for the real estate industry. Wal-Mart, Target and Amazon have it but not mom and pop businesses in small towns. That's where CCIM can help. We can bring well-thought out analysis to small and mid-sized businesses so they make smarter real estate decisions, using the same technology that the big businesses have.
CCIM:
We heard about a property you handle in New Orleans. How did you leverage technology to help you in this transaction and what insights did you and your clients gain?
Louisiana Commercial Realty broker Robert Hand:
Every marketing plan and marketing presentation I do now has CCIM's demographic data jam-packed in it, and clients love the technology because it gives them valuable information they cannot find anywhere else. We can show them what businesses would be successful at any address. That is vital information and many property owners do not know that data exists and do not have access to it. But as a CCIM, we have access to the data that can help client sand tenants make smart real estate decisions.
We had one listing in New Orleans East, which is an unloved area of New Orleans, but there are 30,000 residents within 5 minutes and 60,000 residents within a 10 minute drive time. We used the CCIM database of consumer spending produced by research firm ESRI to show the property owner and also potential tenants that residents spend $20 million annually on food but food businesses only sell $14 million, so $6 million is purchased outside the area by residents. There's more: $5 million is spent on sporting goods by residents but there is no sporting goods store. There's more: $3.7 million is spent on jewelry but there is no jewelry store. From that demographic insight, we know what potential tenants to target and businesses know what the market share would be and can more accurately forecast sales.
CCIM:
With such a broad scope of work across property sectors and a long successful resume in the industry, what would be your advice to other CRE pros looking to grow their business this year?
Louisiana Commercial Realty broker Robert Hand:
Be an expert and help your clients by educating them on the market and how to make smart real estate decisions.
CCIM:
On a personal note, your bio mentions a gig you had selling dictionaries door-to-door to pay your way through college. What lessons did you learn back then that you still use today? What would you tell young folks curious about commercial real estate to prepare them for a career in this field?
Louisiana Commercial Realty broker Robert Hand:
Selling dictionaries door-to-door paid for my college but required long hours and taught us to work smart. We all wanted to get that award for working 100 hours a week. I got the award but after a week, I wanted to work smarter so I tried using referrals. I would ask my prospect if they knew the neighbor across the street. They would always say yes but we don't talk much. I would share the names of the families I had sold to. I would say, well the Smiths across the street bought the full dictionary set, the Thomases next door bought the educational set, the Joneses at the corner bought the book on new math, and soon they got the idea that they might be missing out. Today, you can target certain industries and use media like LinkedIn to connect with people you can help. You have to work smarter.