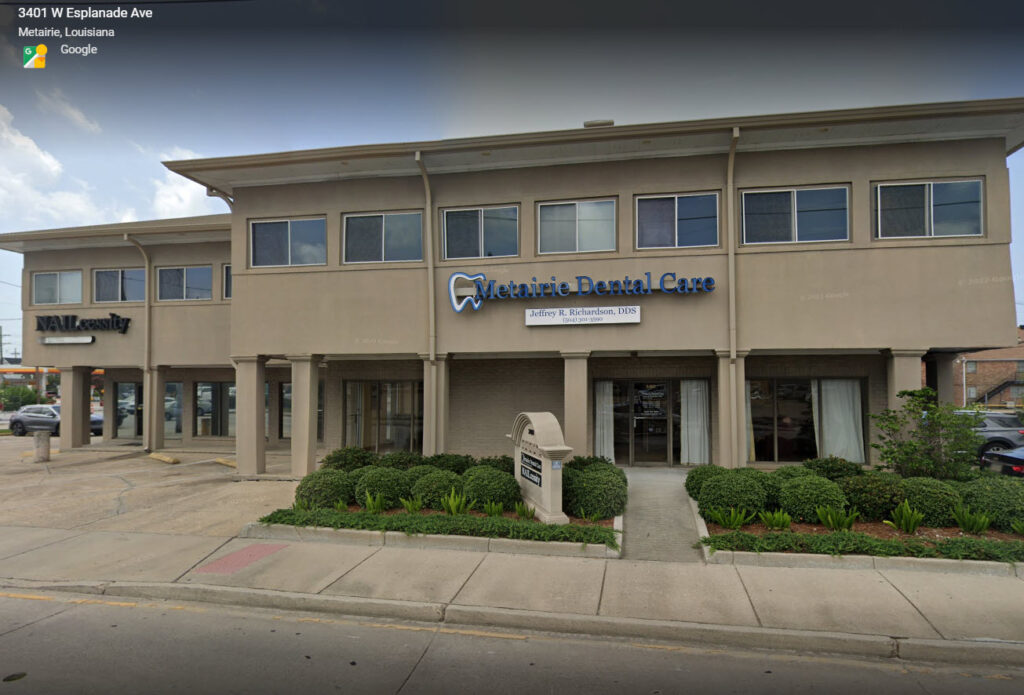 This is a story about property and people but also protecting the income of a retiring couple. In 2010, Louisiana Commercial Realty was asked by a residential agent to help find a buyer for a 2 story commercial retail and office property in Metairie, near Lakeside Shopping Center. We marketed the property and advertised heavily, selling the property for $830,000. Then we helped the new owner lease two vacant spaces, one space to a nail salon and the other to a dentist. Recently, that new owner sold the building for $1.5 million to a working couple investing their retirement savings in hopes of having rental income that would last their lifetime.  The income would come from the nail salon and dentist who are still paying rent to this 3rd owner, but missing is the now vacant 2nd floor space, so the retirement income is $82,000 less than expected. The owner reached out to Louisiana Commercial Realty, finding us online and looking to benefit from our higher level of services to property owners. Here is how we started working on the project.
Step 1-Leasing Office Space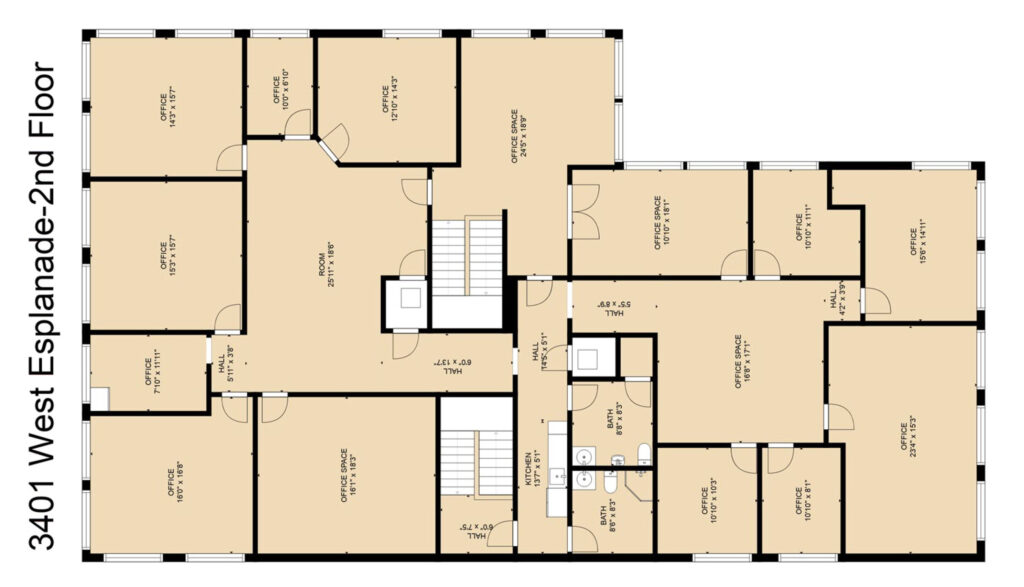 The first step in leasing office space is to put thought into the property to determine what the competitive advantage is. This means determining the strength of the property, which sometimes could be location but also could be the layout of the floor space, or parking, or proximity to highways, or humidity and temperature control, but not price-don't make price the only thing that is attractive.
Looking at this vacant space floor plan, the 13 offices are unusual in today's hyper-cyber work force. Long gone are the private offices because in demand today are open working areas where teams can collaborate and bosses can take a big conference room, put in 3 picnic tables, and have 20 employees working in the space previously for one. So this private office layout is antiquated, but there are industries that still prefer privacy. These 13 offices allow for 7 senior workers and 6 support staff, which is preferred by: attorneys, accountants, insurance and financial advisors. In this 1st step, we prepare a 10 page Marketing Plan which identifies these target markets, how we are going to reach them, and how we can reduce the normal 6 months time of lost rental income.
Take the first target market: attorneys, who we believe don't read their emails, so we snail-mail them a letter. There are 2,300 attorneys in New Orleans so we culled the list down to 600 for those with 7 or less partners and mailed each a letter and followed up with a phone call to let them know the space is available. We execute the same process for all four target markets. We don't know any other commercial real estate firm in the state that offers this accelerated process to their clients.
Step 2-What Is The Competition
There are 201 spaces for lease in Metairie that compete for tenants for this vacant space, and the map shows there are 12 properties near Causeway and West Esplanade, three pockets of 4 vacant properties near Veterans and I-10 and 2 available properties on West Napoleon.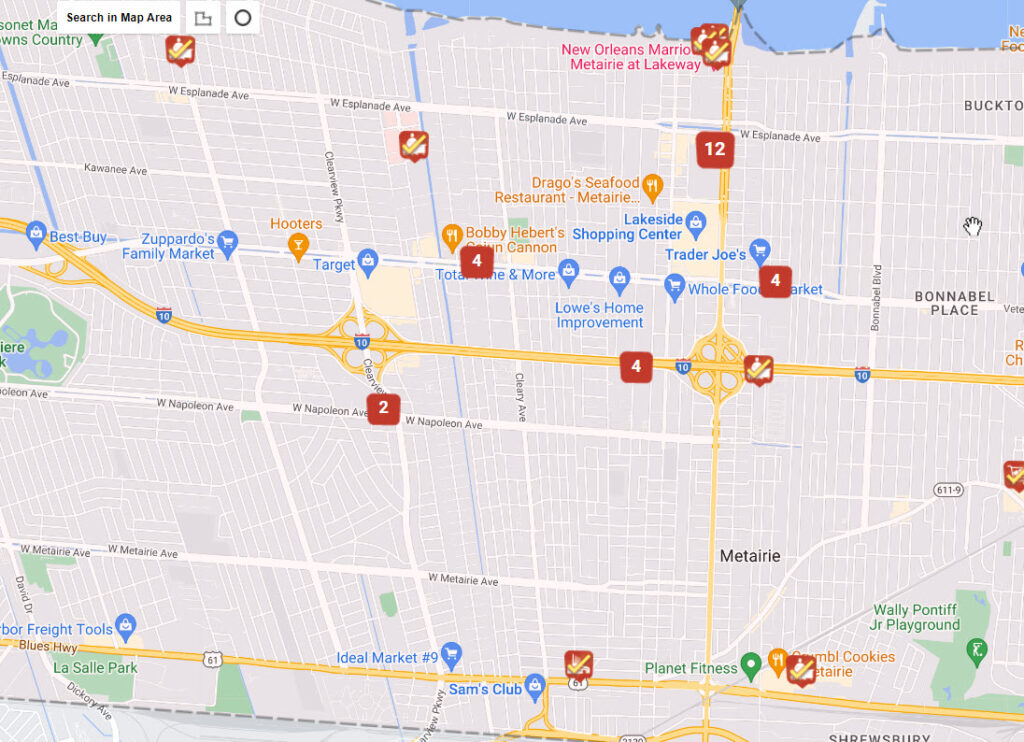 Step 3-How To Price Vacant Space For Lease
A decision on pricing must include an analysis of the market which is every nearby property that a tenant might consider when shopping for commercial property. The most difficult thing for owners to do is put themself in the tenant's shoes. Everyone thinks their kid is the smartest. As advisors, we provide valuable information to help our clients make better decisions, so in step 3 we survey the market and determine every single property that someone might also consider, then condense that data into something easily understandable. The result is a chart of the frequency of rent rates:
The data show that the lowest rents bundle at $15.80 to $16.60 per square foot, the middle group is around $19 per square foot and the top of the range is $23 to $24 per square foot.
Step 4-What Is The Metairie Lease Market
In the Metairie Office market, as of December 2022, there are 255 properties totaling 957,000 square feet for sale at $149 per square foot and for lease at $20.22 per square foot and have been on the market an average of 250 days.
Of the 255 properties, 243 are for lease totaling 884,000 square feet and only 12 are for sale. The month of December saw 8 of those 243 spaces leased at a 5 percent discount or $19 per square foot.
Step 5-Commercial Databases
You can reach tenants 90% of the time as they search online for space for lease, and get in their search results on page 1 using these 3 main commercial databases:
LACDB
The Louisiana Commercial Database (LACDB.com) reaches 1,500 commercial agent members in Louisiana who have posted 8,539 listings, divided into 4,007 properties for sale and 4,532 for lease. The database also has 314 commercial listings in Mississippi, with 187 for sale and 127 for lease. Costs for subscribing to the database are $700 annually and agents must pay approximately $450 annually to join the local Association of Realtors before they can subscribe to the database. This database reaches Louisiana and Mississippi agents and brokers because subscriptions are the least expensive.
Loopnet
Loopnet.com has 1,100,000 properties listed by 300,000 commercial agents nationwide. The marketplace gets 11,000,000 unique visitors monthly. For its massive size, Loopnet.com only has 656 listings for sale and 981 for lease in Louisiana, but this database brings in tenants and investors both locally and nationwide. Loopnet offers subscribers just 10 listings for $8,400 annually and promises subscribers page 1 search results for a diamond subscription of $30,000 annually, making it out of reach for most local agents.
CREXI
CREXI.com has 1 million commercial real estate agent subscribers but an average 2 million buyers, brokers, and tenants each month exploring over $2 trillion of property value nationwide. Crexi has 2,561 for sale in Louisiana and 3,126 for lease. Crexi Pro cost $2,700 annually.
Step 6-Execute The Plan
Our 5 core marketing tools, called "channels", work in a cohesive fashion to bring maximum exposure to commercial property. For example, office tenants reach us about 90% of the time through internet searches so our marketing process drives that traffic to our Louisiana Commercial Realty website, plus commercial databases such as LoopNet, CoStar, Crexi and LACDB. The databases promote your listed space for lease, which gets the space in front of qualified prospects and entices them to ask for more information.
Normally we get your space in front of 4,000 to 5,000 office prospects. We capture the contact information of prospective tenants and follow up. Our direct targeting of prospects in addition to our affiliations with thousands of CCIM and SIOR members, who are the top commercial agents nationwide, tend to shorten the marketing period and deliver results more quickly, saving time and restoring income that normally is lost.
We provide regular reports showing the activity, which brings accountability to the marketing process. Property owners will know how many people are searching for property in this market and, of those, how many have inquired about their property and, of those, how many have reviewed the marketing presentation and toured the space. We update clients whenever the property needs to be toured and we always accompany prospective tenants.
For more information on getting vacant space leased, read our blog: How To Get Your Vacant Space Leased or Sold