It took over two years for Louisiana Commercial Realty to finally sell 18 acres of land in Covington, but there were some big obstacles to overcome including a wetlands determination, city council resistance, lawsuits between family owners and even a breach of an agreement by the city to provide utilities. The $2.2 million sale of the Privette land site at highway 25 and 190 was one of the largest parcels sold that was zoned as Regional Commercial and allowed a wide variety of commercial uses including medical clinics, multi-family, hotels, nursing homes and drive-thru restaurants.
Originally Covington Airport
The 18 acres comes with an interesting history, having been part of a 100 acre site owned by Richard Privette and his brother in the early 1900's and was originally Covington's first airport. The brothers built an airplane powered by a model T engine and flew it successfully in the 1930's until it was destroyed by hitting a stump on the land where the Taco Bell now stands.
Grandpaw Privette's Model T Engine Airplane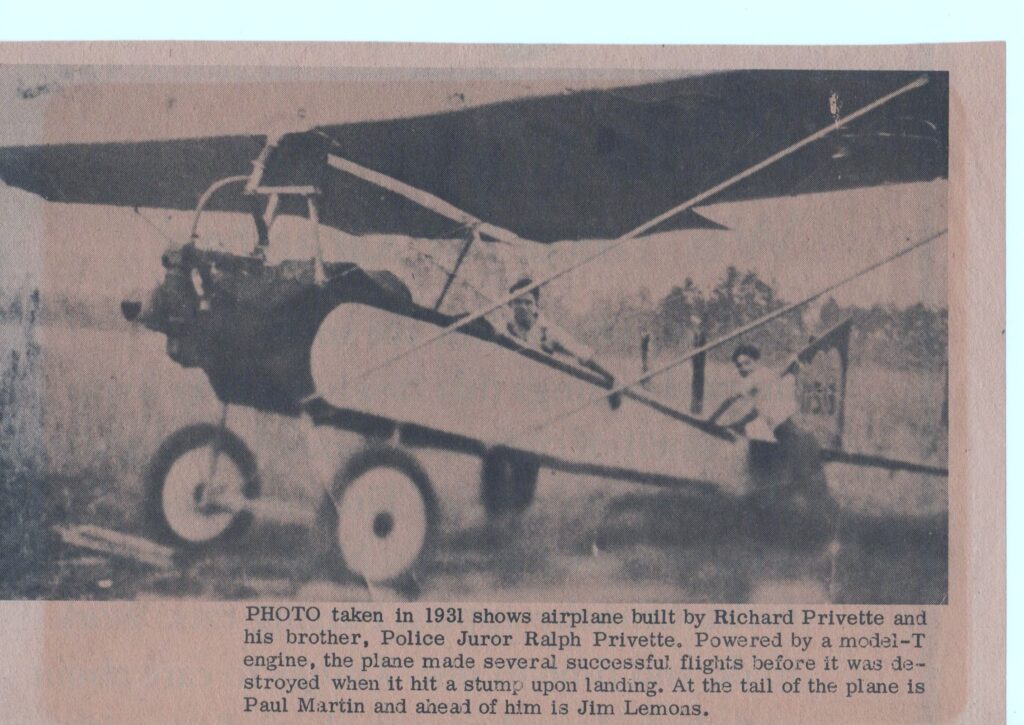 While the average time it takes to sell vacant commercial land in Covington is 12 months, Robert Hand, a broker with Louisiana Commercial Realty, explains why it took almost 3 years to secure a buyer:
"We started by creating a marketing plan that included advertising the land to developers locally but also nationally. We stressed the strengths of the site, which were the size and demographics. Of the 122 vacant properties for sale, only 6 were this large and zoned for apartment development. We got the property in front of thousands of potential buyers and had the land under contract within six months, but that buyer was not able to secure financing, and after tying up the property for 18 months, they terminated the purchase. The silver cloud is that because we draft our own purchase agreements, we were able to get the buyer to pay $100,000 to our client for time extensions, and they were able to keep that money even though that sale fell through. We then re-marketed the property and were able to bring in two more offers within 8 months."
The airport is long gone, and the land now is scattered with fast food restaurants, apartments and grocery store shopping centers, as a result of a growing Covington population. One of the common ways to measure population growth is by traffic counts, and the data show the intersection of highway 190 and 25 sees approximately 22,000 cars per day which is the highest count of any highway that feeds from Interstate 12.
Drilling Down Into Demographics
Developers looking for potential sites will closely analyze population trends and this makes Covington an attractive location for retail and multi-family development. According to ESRI, a demographic research firm, the Covington population within a 5 to 10 minute drive time of the site is projected to exceed 14,500 in 2023, with 5,434 households that average $58,000 household income.
Covington 5-10 Minute Drive Time Demographics
Since developing a large parcel of land can include apartments, retail stores and shopping centers, with a total investment between $25 and $50 million, buyers first examine population trends to make sure their development is feasible. Broker Hand explains:
"We use the latest technology to determine what developments are feasible by examining consumer spending patterns; for example, within a 5 minute drive time of the site, the population spends more than average on gluten-free labels, asthma and arthritis drugs, contact lenses, and visits the ear, nose and throat doctor or their gastroenterologist more often than others in St. Tammany Parish. We discovered that health care spending was a major expense, with an average $39,000 annually spent on nursing home care, which was not only higher than the parish average but also higher than the national average. That research allowed us to target those markets as buyers."
Where Do Nearby Residents Spend Their Money?

Tapestry Analysis Helps Buyers Reduce Risk
In addition to income, age and population trends, the latest technology allows buyers to understand the lifestyle of the nearby population, which in turn helps visualize what businesses are feasible to serve the existing population and therefore might be the most successful. This technology, called Tapestry Analysis, breaks down the entire U.S. population into 62 categories, depending on leisure activities, spending, interests and a person's goals and desires. The 3 most common tapestry groups for this site are Soccer Moms, Family Foundations and Salt of the Earth.
Tapestry Groups

Soccer Moms is defined as an affluent, family-oriented market with a country flavor. Residents are partial to new housing away from the bustle of the city but close enough to commute to professional job centers. Life in this suburban wilderness offsets the hectic pace of two working parents with growing children. They favor time-saving devices, like banking online or housekeeping services, and family-oriented pursuits.
What Is A Soccer Mom?
Summary
In summary, gone are the days of just putting a sign up to sell commercial property. Today, buyers can use sophisticated technology to determine consumer spending which determines what businesses will succeed, allowing them to be more confident about investing their $50 million.
After a two year search for the perfect location, the owner of Sukho Thai restaurant finally found a permanent home, with some help from commercial real estate broker Louisiana Commercial Realty who researched potential locations and provided data on which neighborhoods spent the most money dining out.  Broker Robert Hand with Louisiana Commercial Realty explains how they got started, "We helped Sukho Thai in the past when they wanted to expand to the French Quarter and we negotiated the acquisition of the 2200 Elysian Fields location which has been very successful, so they asked us to help them purchase a building rather than continue to rent space at their Magazine location."
Sukho Thai Pivots During Covid
While many restaurants closed due to Covid and everyone struggled with finding employees, Sukho Thai pivoted and focused on take-out and delivery. During Covid, their revenues actually increased, with take-out and delivery increasing more than in-house dining decreased. They even adapted delivery to in-house since Uber Eats, DoorDash and Waitr costs were shared by the restaurant and almost eliminated any profit.
The Search For The Perfect Location
The search for a permanent home initially included every building listed for sale on Magazine Street and even a few unlisted buildings that Louisiana Commercial Realty knew could be a good fit. After flushing out those possibilities, which took about a year, the search expanded to the Lakeview area with a few possibilities on Harrison Avenue. Negotiations with property owners hit a dead end, so Louisiana Commercial Realty widened the search to Harahan and then to the Kenner area, which showed as having a population that spends less money on dining out annually per family but offers a larger population, so the total spending numbers are attractive for a restaurant. The table below is one example of the research, showing the Williams Boulevard target site as having the lowest household income but has the highest total spending at dinner and lunch due to the higher total population.
Comparison of Total Spending on Dining Out
Louisiana Commercial Realty also provides a "Restaurant Market Potential Report" that includes what restaurant brand residents visit most often, how much they spend, and how that compares to a national average. The table below shows an analysis of Sukho Thai's current Magazine Street location. Broker Hand says, "The data available to restaurants today is spectacular. We can not only tell the total spending on dining out, we can discover how many adults visit a restaurant, how much the average family spends per visit, how often they visit, and the brand of restaurant they visit most often, and we can zero in on any 1, 3, 5 and 10 mile radius or drive times for any location."
Drilling Down In The Data
The data show that at this location, 2,111 adults, which are only 11 percent of the population with one mile, spent $101 to $200 per visit, which was the highest spent at a family restaurant. Also, within the last 6 months, we know that the most popular type of restaurant served pizza. This is measured by the Market Potential Index (MPI) which tells the relative likelihood of the adults in the specified trade area to exhibit certain purchasing patterns compared to the United States.  An MPI of 100 represents the U.S. average, so a score of 154 tells us that a pizza type restaurant in this location is visited 54 percent more than average.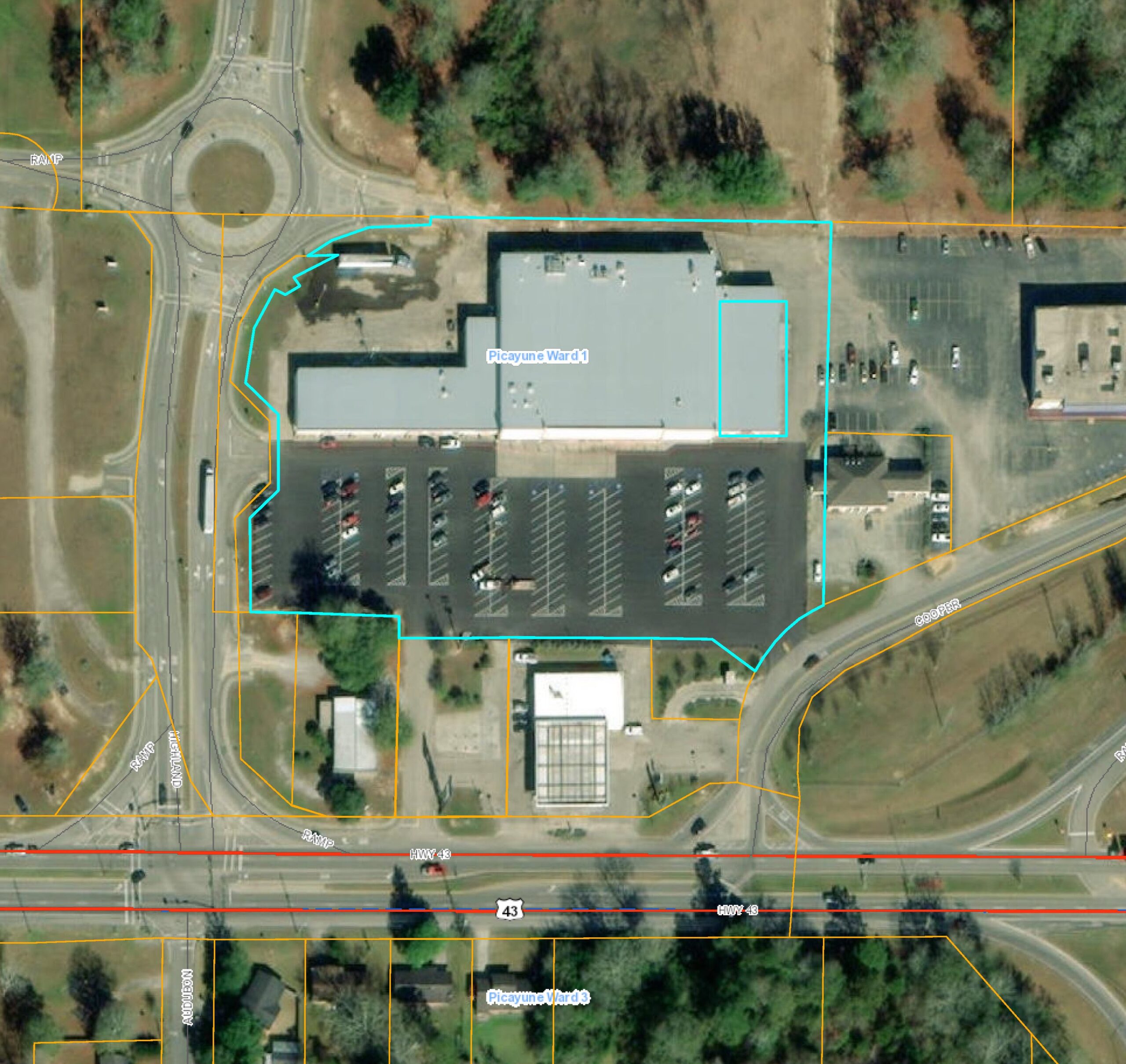 Mississippi Commercial Realty, a Hattiesburg based commercial real estate brokerage firm, announced the sale of the 60,000-square-foot River Ridge Shopping Center in Picayune, Mississippi, to Rouses Markets, which is the fastest growing family-owned grocer in the United States. The Picayune store will be the first venture for Rouses north of the Gulf Coast in Mississippi and adds to Rouses' 64 stores stretching from Lafayette to Orange Beach, Alabama. The new Rouses Market store will occupy the 36,000 square feet within the property that was previously home to a Winn Dixie grocery store.
The new location was made possible because Winn Dixie closed their Picayune store and the space has been vacant for years. That's when the shopping center owner, who was unsuccessful in leasing the space, hired Mississippi Commercial Realty to find a tenant. Commercial real estate broker Robert Hand, with Mississippi Commercial Realty, explained how they do things differently: "Gone are the days of just putting a sign up. In this market, the data show the average time to sell or lease commercial property is twelve months, so we offer a more aggressive marketing strategy that tends to shorten that lost time. We use the latest technology to identify the most qualified buyers and tenants. For example, with the Picayune property, our research showed consumer spending within a 15-minute drive time was $56 million in the 'Food at Home' category (See Table)".
Hand explains, "So we reached out to all the grocers and made sure they knew the vacant space would make a feasible location. Within three to six months after starting, we were able to get two offers to buy the shopping center and also two offers to rent all the remaining space."
Initially, Rouses was interested in just leasing the vacant space, but when they looked at the value they would create by occupying the vacant space, they realized owning the entire shopping center was a smarter business decision. Rouses plans to make significant improvements to the entire shopping center and expects customers will also enjoy the services of the other stores: Subway, Century 21, CVS Pharmacy, Mississippi Home Care, Ciao King Restaurant and Nail Expressions.