Since New Orleans is almost 300 years old, there is plenty of history behind almost every commercial real estate property, and 426 Canal Street is a prime example of this New Orleans Commercial Real Estate with such a fascinating history that locals refer to it by name rather than the address.
This property has been known by three names: the Friedricks Building in the late 1800's, and the Sanlin Building, or the Morris Cigali Building more recently.
The historic Sanlin Building has a footprint of approximately 49,661 square feet with 130,000 square feet of improvements. Zoning is CBD-3 which allows a height of 85 feet. The property is located adjacent to Harrah's Casino and near Canal Place Shopping Center, which just announced that retailer tenant Tiffany is taking a large block of space.
The property dates back to the 1840s when African-American clothing merchants Julien Colvis and Joseph Dumas purchased lots and constructed buildings in the block with the expertise of architects Sidle and Stewart. Then in 1850, Colvis purchased 426 Canal from Louis Bararin. Architect James Freret added a 5th floor and the current façade after 1880. The façade has been thought of as historically significant and the building is considered an example of African-American entrepreneurism, which prevented any changes to the outside of the building over a decade ago.
This property is zoned CBD-3 which allows any use permitted in CBD-1 except hotels. Since the zoning does not allow a hotel as a permitted use but as a conditional use, any hotel development must have city council approval and a review by the city planning department in an official site plan review. This requires architectural drawings to be submitted which can easily cost $50,000 to $150,000-a hefty up front expense when no guarantee exist that a project can proceed. Current zoning only allows hotels as a conditional use in a certain area bounded by Canal, Crozat, Iberville and North Peters, as shown in the map below.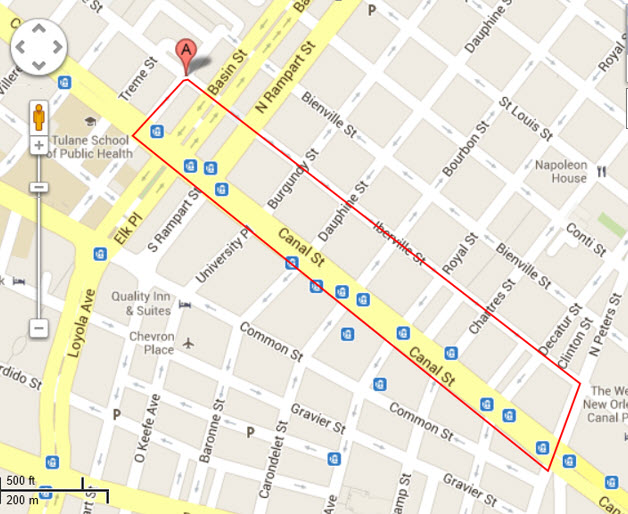 Source: www.louisianacommercialrealty.com, New Orleans Preservation Society Archives.
copyright 2013.