The commercial real estate market in the New Orleans/Metairie MSA has held steady throughout Covid, with prices increasing 5% in the industrial sector, 30% in the shopping center sector and unchanged in the office sector, and decreasing 6% in the retail sector. Over the last 6 months, over 1 million square feet has been taken off the market for lease and an additional 400,000 square feet is now for sale. This article examines the current average price of the various categories of commercial property and looks for trends and opportunities.
---
Office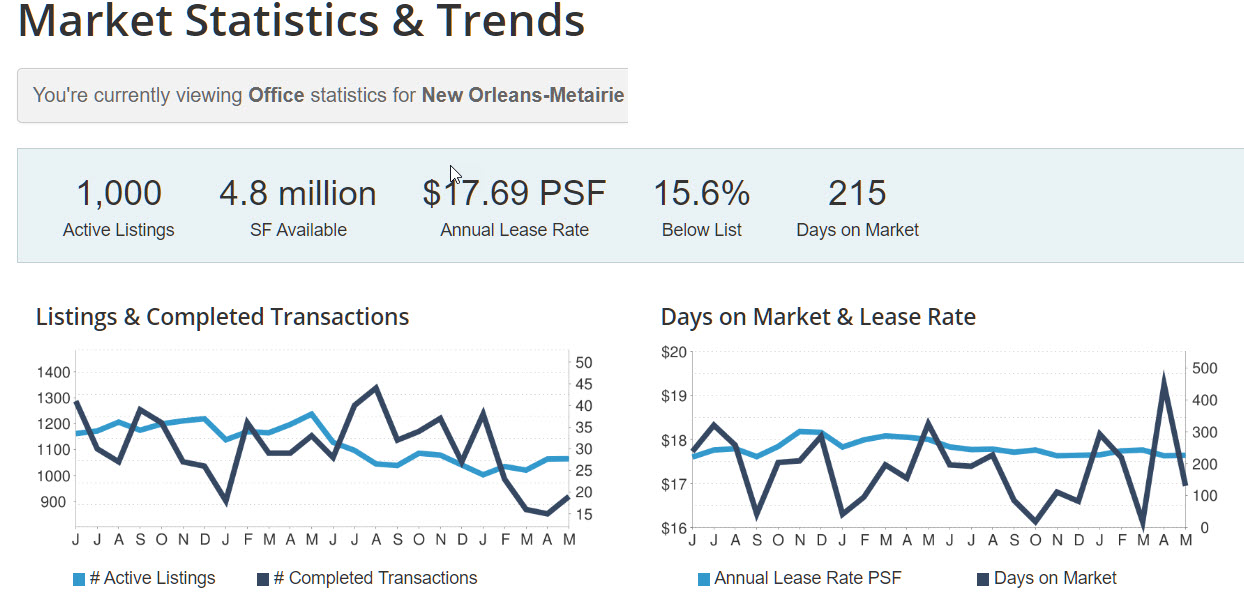 Lease prices for office space in the New Orleans/Metairie Metropolitan Statistical Area averaged $17.69 per square foot but transacted 12% less at $15.76/SF, and sale prices averaged $125 per square foot. There are 1,000 office properties for sale or lease and, of those, 867 are for lease and 133 for sale. Last month 18 office spaces were leased, which is below the average of 25 monthly for the last 2 years. and 1 office properties was sold. The average office property is on the market for 215 days.
---
Retail

In the retail store category, there are 647 listings, with 473 for lease averaging 2.1 million SF at $16.17/SF but 13 transacted last month at $13.51/SF. There are 174 retail properties totaling 1.8 million SF for sale, listed at an average of $158/SF but 3 sold last month at $113/SF. The average retail listing is on the market 481 days, about 8 months longer than average.
---
Shopping Center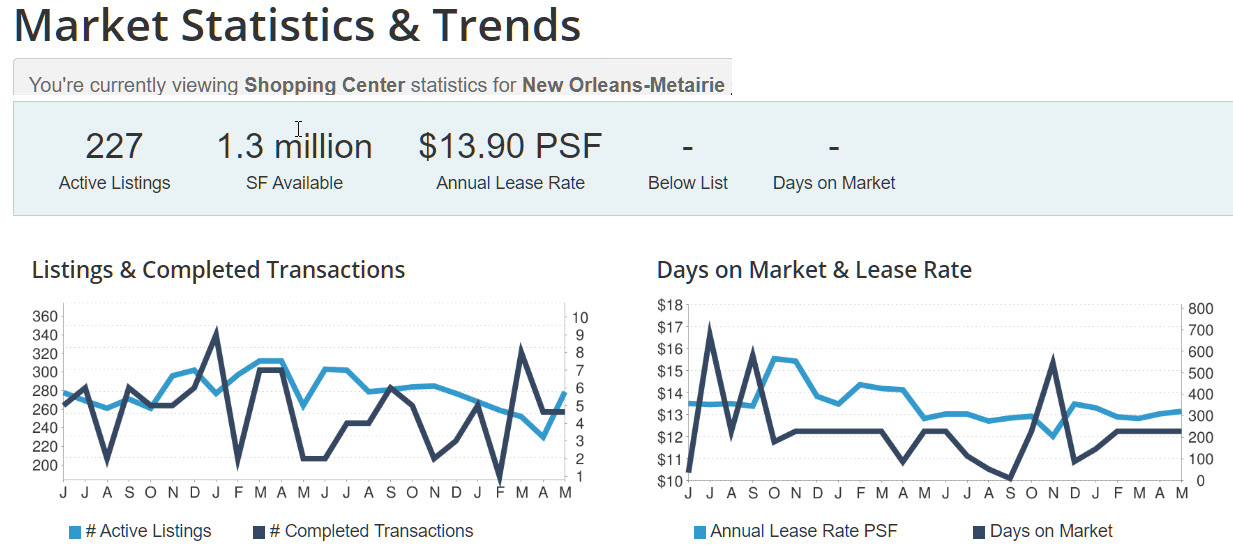 The last 6 months destroyed the shopping center market with sale prices plummeting 30% but helped lease rates which increased 30%. There are 227 shopping center spaces in the New Orleans/Metairie market with 217 for lease totaling 956,000 SF at $13.90/SF and 10 properties for sale totaling 321,000 SF at $73/SF. The lease market has dropped 800,000 SF over the last 2 years while the sale SF remains unchanged. The average shopping center space is on the market 308 days.
---
Industrial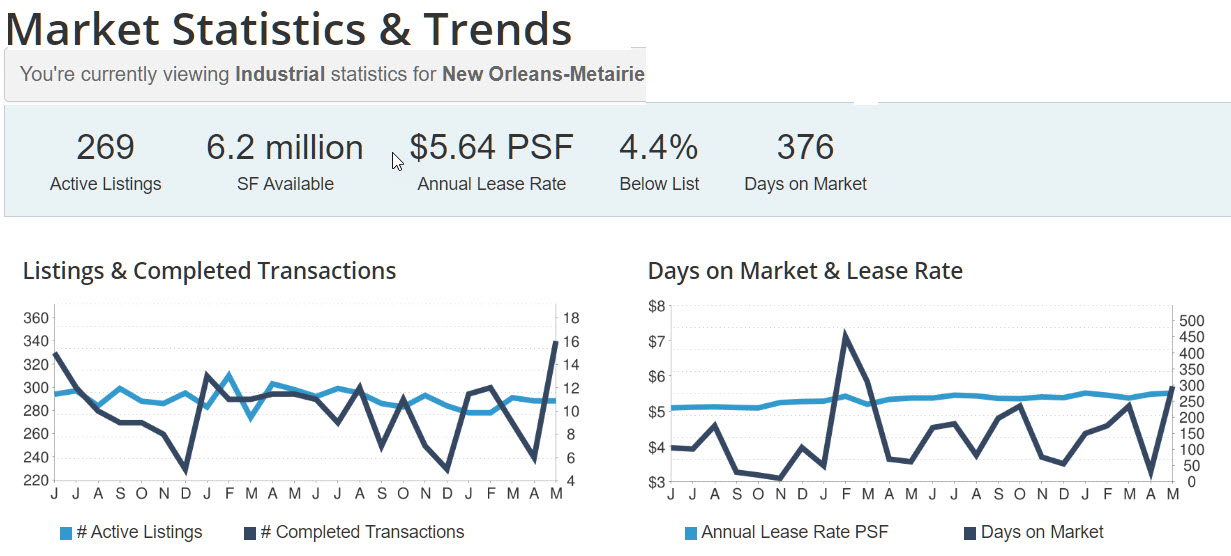 The industrial market has 269 listings totaling 6.2 million square feet, with 173 properties totaling 2.8 million SF for lease averaging $5.64/SF and 96 listings totaling 3.2 million SF averaging $37/SF and on the market 376 days. Six months ago, lease rates were 5% lower at $5.38/SF, and sale prices averaged 18% higher at $46/SF.
---
For historical comparison, read our article on prices dated August 2019: Commercial Real Estate Market Overview.
---
Definitions:
Frequency

: Statistics are compiled at the beginning of each month.

Reliability

: The quality of the data will vary based on many factors, including whether or not your CIE verifies the data on an ongoing basis. Statistics based on larger numbers of listings (as indicated by the "Listings" column) are generally more trustworthy.

Accuracy

: We make all attempts to normalize these stats, but make no guarantees about their accuracy. Outliers (extremely high or low values) are excluded from calculations.

Counts

: Listing and Transaction counts reflect the number of records with price and size information within valid ranges. The actual counts of all records in the CIE are larger.

Weighted Averages

: Price averages are weighed using the square footage available.

Direct

: Lease statistics are direct (exclude subleases).

Lease Types

: Because of discrepancies in how lease types (NNN, Gross, etc) are reported, we ignore differences in type – all types are folded together into the lease rate stats.

Below List

: Reflects the average percent difference between the original listed price and the final transaction price.

Net Absorption

: We calculate absorption using a 90 day period.

Locations

: We only allow filters for locations with at least 100 active listings.

Asking vs. Reported

: "Asking" prices are based on active listings for the chosen locale, while "Reported" prices are calculated using completed transactions as reported by CIE members.