Of the 51 metropolitan areas with a 2010 Census population of 1 million or more, New Orleans-Metairie had the highest jobless rate in the US at 4.2%, much higher than the 3.3% national unemployment rate which is even lower than the 3.6% rate measured a year earlier.
While September unemployment rates compared to 12 months ago were lower in 254 of the 389 metropolitan areas, rates were higher in 104 areas, and unchanged in 31 areas. That means 65% of the 389 cities surveyed had better jobless rates compared to a year earlier, and 35% had worse.
A lower unemployment rate does not necessarily mean more people are working because the unemployment rate is the number of unemployed divided by the civilian labor force and the civilian labor force is the sum of employed and unemployed persons. Smaller labor force numbers can occur simply because people who can't find a job have quit looking which removes them from the labor force calculation.
Employed persons are calculated as those who did any work at all for pay or worked 15 hours or more without pay in a family business or farm, plus those not working who had a job from which they were temporarily absent, whether or not paid, for such reasons as labor-management dispute, illness, or vacation.
Unemployed persons are those who were not employed, had actively looked for a job sometime in the 4-week period, and were currently available for work. People on layoff expecting recall need not be looking for work to be counted as unemployed.
---
Louisiana One Of Only 3 States With 5 Cities Having Unemployment Rates Above 4.5%
Metropolitan area
September 2019
Unemployment Rate
Lake Charles, LA
3.70%
Baton Rouge, LA
4.20%
New Orleans-Metairie, LA
4.20%
Houma-Thibodaux, LA
4.40%
Lafayette, LA
4.50%
Shreveport-Bossier City, LA
4.90%
Alexandria, LA
5.00%
Hammond, LA
5.10%
Monroe, LA
5.10%
New Orleans is not the only city in the state with a high jobless rate. In fact, 5 cities have an unemployment rate 4.5% or higher: Lafayette, Shreveport, Alexandria, Hammond and Monroe, making Louisiana one of only 3 states (joining California and Washington) in the US with 5 or more MSA cities who are not participating in the low unemployment rate enjoyed by the rest of the nation.
---
How Can 65% Of The Cities Have Lower Jobless Rates But Only 14% Actually Have More People Working?
Nonfarm payroll employment increased over the year in 56 metropolitan areas and was unchanged in the remaining 333 areas. That means only 14% of the 389 cities actually had more nonfarm people employed. Nonfarm payroll excludes farmers and self-employed, so the only way to explain that 254 cities have lower unemployment rates but at the same time only 56 cities having higher nonfarm employment is that only farmers and self-employed people went back to work over the last 12 months in 198 (254 minus 56) of the 389 MSA cities. That just doesn't pass the smell test. More on that in our next issue...
---
Best City To Get A Job: Lowest Unemployment Rate is Ocean City, New Jersey. Worst: Houma, Louisiana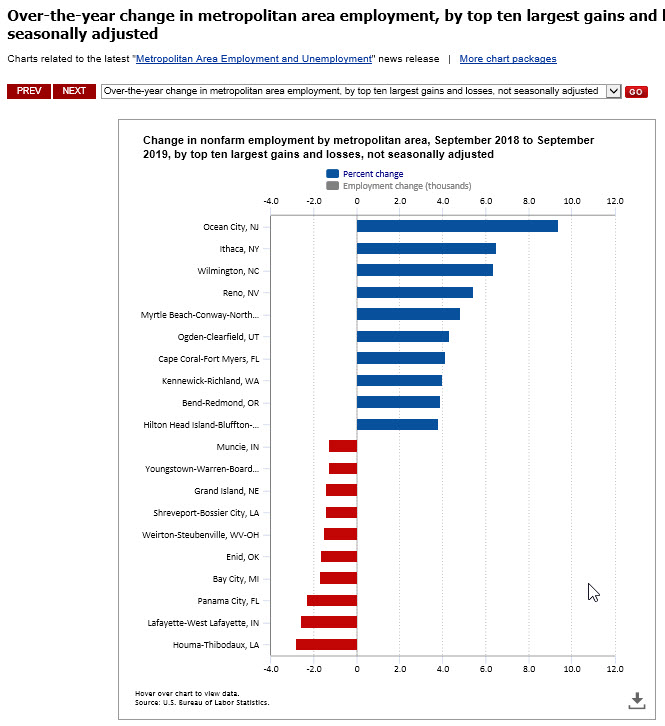 Ocean City, New Jersey has the lowest unemployment in the US, with 1,942, or 3.3%, jobless of the 52,439 people in the labor force. This compares to 2,222 out of work 12 months ago, so just putting 268 people to work made this city the best place to get a job. What the numbers do not show is that in August 2018, Ocean City had a labor force of 55,336, so while the unemployment rate is low, the city actually had 2,897 (55,336 minus 52,439) fewer jobs from August 2018 to September 2019. The decline in labor force means less income tax revenue, less sales tax revenue, less new businesses opening up and overall a worse standard of living. But almost everyone is working.
Houma, Louisiana shows at the bottom of the list of change in employment over the last 12 months, with a 499 drop from 4,303 to 3,804 unemployed, even though the labor force dropped 2,242 from 87,819 to 85,577. So 499 less are out of a job, but 2,242 left the work force. So the real impact to Houma is the total of 3,804 jobless plus 2,242 no longer counted, or 6,046 which is a 6.8 % of workers over the last 12 months. That's why the unemployment rate of 4.4% that is often quoted is misleading.
---
What's Alabama Doing Right? Has 5 Cities With Lowest Jobless Rate
Looking at momentum, Birmingham scores the largest drop in jobless rate with a 1.0% decrease to 2.3%. Jackson, Mississippi witnessed the largest unemployment rate increase at 1.1% to 4.9% during the last 12 month ending September.
In contrast to the poor job outlook for Louisiana and Mississippi, next door neighbor Alabama has 5 cities with the best unemployment rate of 2.4% or less: Auburn 2.2%, Birmingham 2.3%, Fairhope 2.2%, Decatur 2.2%, Huntsville 2.1%.
So what is Alabama doing that Mississippi and Louisiana are not? Birmingham has 10 companies employing over 3,500 workers in diversified industries, including one S&P 500 company, a bank headquarters, auto manufacturer, healthcare and insurance industry employers. Huntsville has NASA employing 6,500 and the US Army employing 35,000, and also has Boeing, Verizon, Northrup Grumman and Toyota.
In summary, the cities with the best job opportunities have several large employers who are diversified and in prosperous industries. To make that happen, cities need to offer a well educated work force, tax incentives and a pro-business government that aggressively seeks new employers.
---
For more information on employment rates, read our other articles about job growth: