Since New Orleans is almost 300 years old, you'd expect some interesting stories behind its more prominent buildings, and the vacant Market Street power plant near the New Orleans Convention Center does not disappoint.
Built in 1927, the 5 story coal-fired power plant probably contains asbestos and who knows what else detrimental to life, but it sits on 7 acres just a Mardi Gras bead's throw from the driving force of the New Orleans' economy: the nation's 6th largest Convention Center which drew 23% of the 8.75 million visitors in 2011. The power plant measures over 500,000 square feet, making it the largest non-office structure in New Orleans commercial real estate.
The building was purchased by Baltimore developer Edward Giannasca for an outrageous price of $10 million, just after Hurricane Katrina, at a time when apartment developers valued the site at most $4-$5 million. It was an offer the owner, Entergy, just could not refuse.
Money To Purchase Power Plant Came From Fraud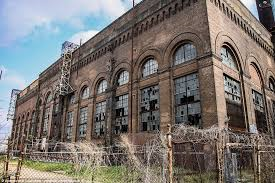 The money to purchase the building came from insurance proceeds on another building, Plaza Tower, owned by a partnership of Giannasca and retired Baltimore Ravens defensive end Michael McCrary (3rd on the Ravens all-time sack list) who claimed fraud since he was not informed of the diverted use of the insurance proceeds. McCrary sued Giannnasca and was awarded $33 million by a Baltimore court which was overturned on appeal. Subsequently, McCrary became dependent on drugs, his wife filed for divorce and a protective order.
Michael Jackson's Hedge Fund Gets Involved
Plaza Tower was eventually purchased by a hedge fund managing money for wealthy clients including Michael Jackson, who sold their $10 million investment at auction for $650,000 in 2011. The Market Street power plant sits vacant today, as it has been since 1984, but there are expectations that it will become a retail center with Bass Pro as the major tenant. Even though the property sits in a small industrial area, there are signs of commercial development: a new Wal-Mart down the street and, across Tchoupitoulas Street, the 700 unit Saulet Apartments is in full operation, having sold in September 2008 for $97,000,000. The first step in bringing the power plant back into commerce is to resolve its financial problems, since the owners filed bankruptcy in December 2009 but are expected to emerge in 2012. The property has a claim by MCC Group, a large contractor, and Market Street Ventures which holds the first mortgage, as well as Market Street Trust which has a claim for $6.5 of the $19 million in debt being restructured.
---
Sources: www.emporium.com www.larryschedler.com www.baltimoreravens.com Times-Picayune, December 2, 2011