by Robert Hand, CCIM, MBA, SIOR

Industrial Prices For Lease January 2019
Prices for industrial space for lease in the New Orleans/Metairie Metropolitan Statistical Area averaged $5.28 per square foot as of January 2019, up 1% from 3 months ago and down 3% from 2 years ago. There are 283 industrial properties for sale or lease and, of those, 198 are for lease and 85 for sale. Last month 3 industrial spaces were leased, which is below the 7 average for the last year. The average industrial property is on the market for 162 days.
Industrial Prices For Sale January 2019
There are 85 industrial properties for sale in the New Orleans-Metairie MSA, compared to just 20 in the city of New Orleans, with 2,900,000 square feet available for sale, 12% below the average for the last 2 years. The average sale price was $62 for the 2 industrial properties sold last month, a 50% increase in compared to the $41.63 average price for all 85 industrial properties listed for sale.
---
For more information on prices, read our articles:
Office Space For Lease Defies Law of Economics
Office Lease vs. Sale Prices In New Orleans
Prices For Every Type of Commercial Property In Louisiana
Louisiana Commercial Realty announces the successful completion of lease negotiations of 9,000 square feet of New Orleans Class A office space to Davillier Law Group, a 10 year old boutique firm with 8 attorneys and plans to expand their current areas of practice which include litigation, real estate, public and commercial finance, mergers and acquisitions, gaming and motion picture tax credit transactions. The law firm's client list includes national and local real estate developers, entertainers, professional athletes, financial institutions, federal non-profit organizations, educational institutions, and utility companies.
In order to expand their services, Davillier Law needed more office space to accommodate more employees and technology to continue to provide a high level of service to clients, so they contacted Louisiana Commercial Realty who negotiated the sublease of office space on the 17th floor at 935 Gravier Street. The previous tenant, LookFar, had given notice to CivicSource who leases the entire 19,000 square foot floor, and Louisiana Commercial was able to get Davillier Group in the space within days of LookFar moving out.
Davillier previously leased space in 1010 Common, which encountered water damage when the building electrical failed, causing many tenants to explore other office space when the landlord failed to make repairs quickly. 1010 Common was purchased in 2014 for $16,000,000 by Mohan Kailas.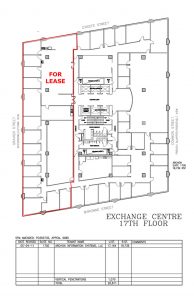 Louisiana Commercial was able to help Davillier secure 30 percent more office space for approximately the same price by scouring the 1,000,000 square feet available in downtown New Orleans, including sublease space, which is office space under lease by a tenant who then, in turn, lease excess space to another tenant. The landlord benefits from a sublease since both the new tenant and the initial tenant must guarantee to pay the rent.
Negotiations for a sublease always include the new tenant, or sublessee, and the initial tenant, the sublessor, and the landlord, which can sometimes complicate negotiations. Louisiana Commercial Realty president Robert Hand, explains, "Sublease space is always a great deal for new tenants looking for office space, but the landlord has opposing objectives, and the initial tenant is now a landlord too, so the broker must be able to quarterback 3 different entities with different objectives so that everyone is satisfied. My training in negotiation by the NASD plus past experience negotiating the largest office lease in New Orleans gives me an advantage to make the process go more smoothly. Commercial lease negotiation can fall apart on the craziest, most insignificant issues, and the broker has to keep cool and quarterback all the players for a common goal. For example, once I had a $5,000,000 real estate project that took 6 months almost fall apart at the last minute because neither party wanted to remove the trash. It was a only a $15,000 problem so we got creative and brought both buyer and seller together for Italian lunch at Andreas and worked it out."

---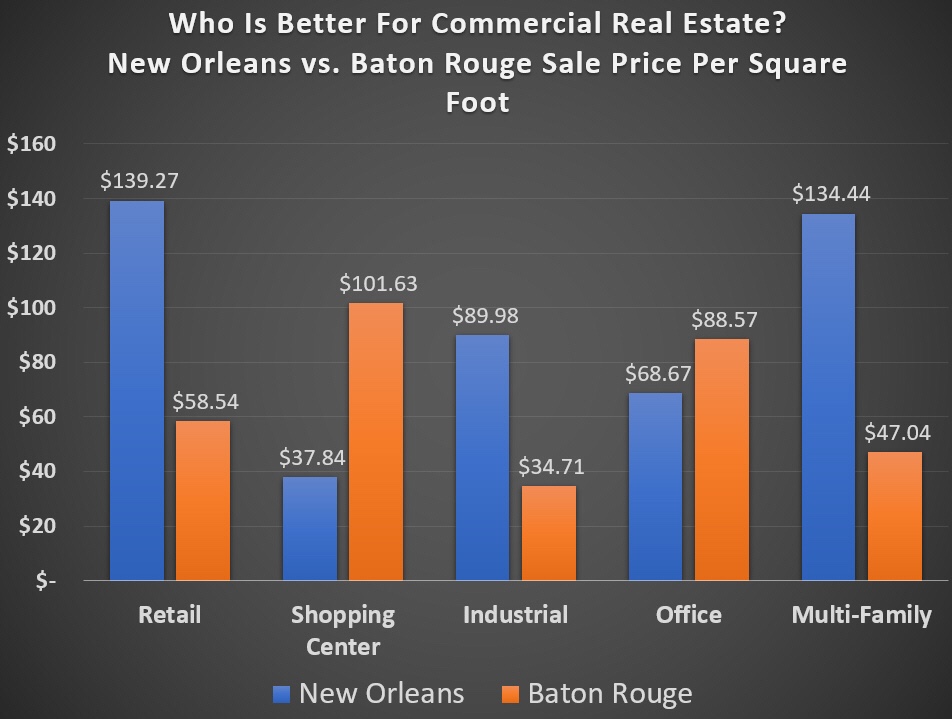 Let's examine the 5 main categories of commercial real estate. Each category commands a different price because each has a different feasibility, capital investment and return on investment:
Retail
Shopping Centers
Industrial
Office
Multi-Family
Retail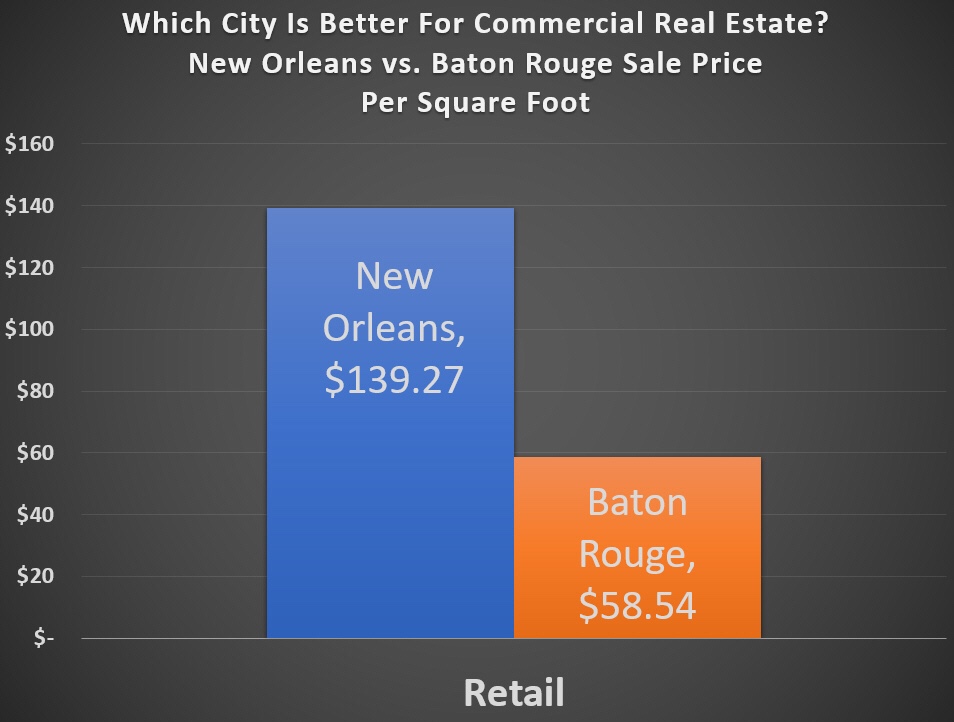 In the retail sector, which encompasses over 100 categories including clothes, toys, tools, food, furniture and office supplies, New Orleans commands a higher average sale price of $139 vs. Baton Rouge at $58 per square foot. The explanation is due to rent prices which are 80% higher in New Orleans, resulting in higher valuations.
Shopping Center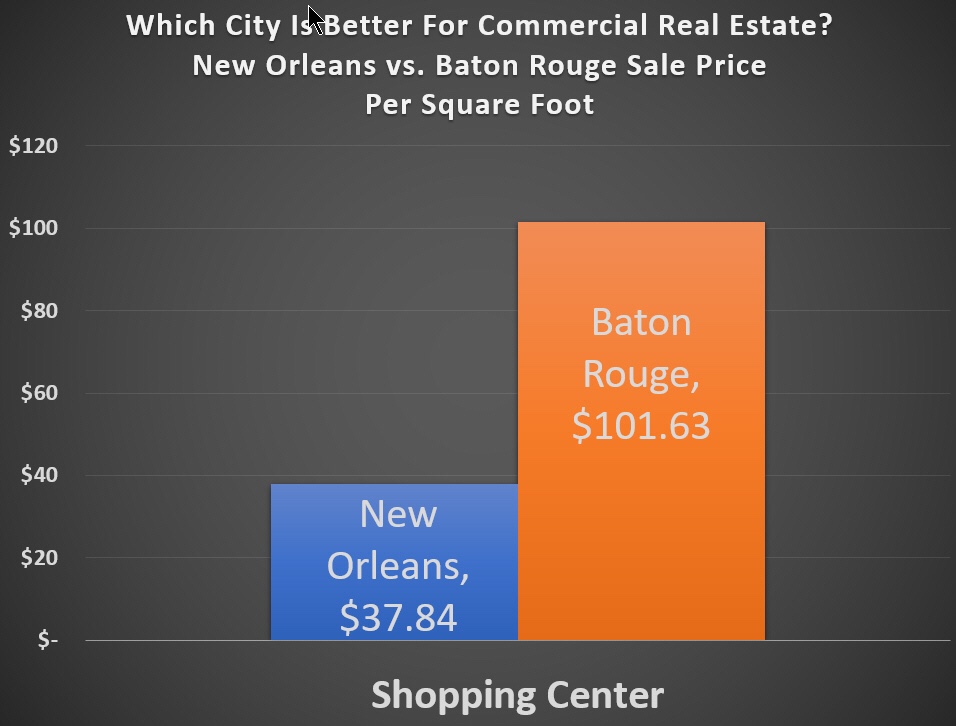 In the shopping center sector, which includes entire shopping centers comprised of retailers, Baton Rouge outshines New Orleans with an average sale price of $101 vs. $37 per square foot, going against the law of supply and demand because there are 3 times as many shopping centers in Baton Rouge compared to New Orleans. The smart decision for Baton Rouge shopping center owners is to arbitrage by selling Baton Rouge and buying New Orleans.
Industrial
New Orleans warehouse prices average $89 vs. Baton Rouge at $34, and rent prices are about the same; however, Baton Rouge has 50% more SF on the market, resulting in lower sale prices.
Office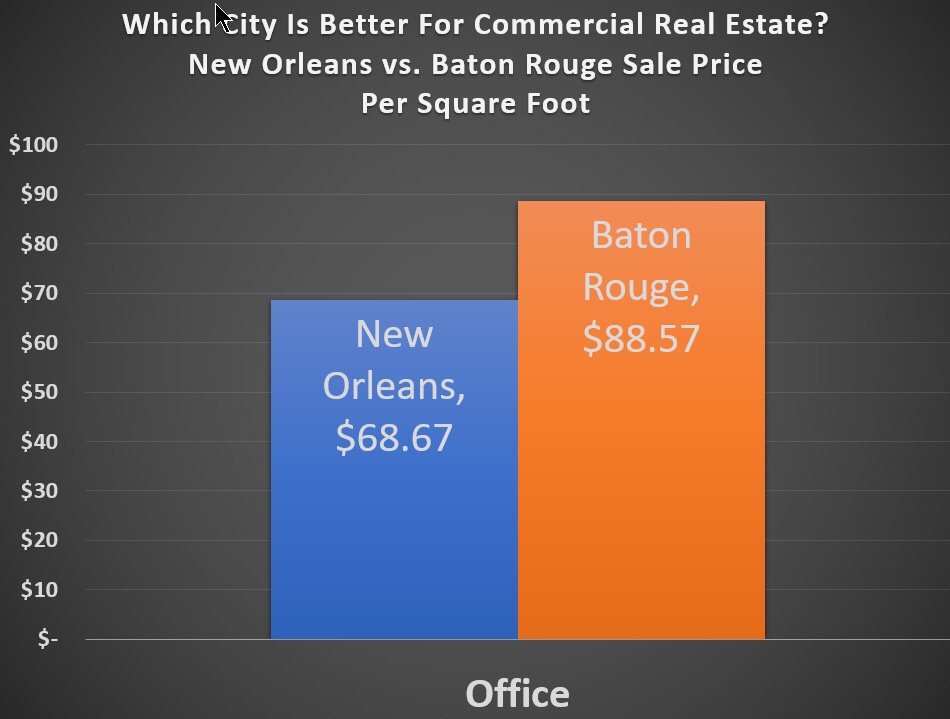 Baton Rouge office sale prices are about 15% higher ($88 vs. $68 per square foot) than New Orleans because rent prices are higher by approximately the same percent. Click here for our article explaining how price is a function of rent and the Capitalization Rate.
Multi-Family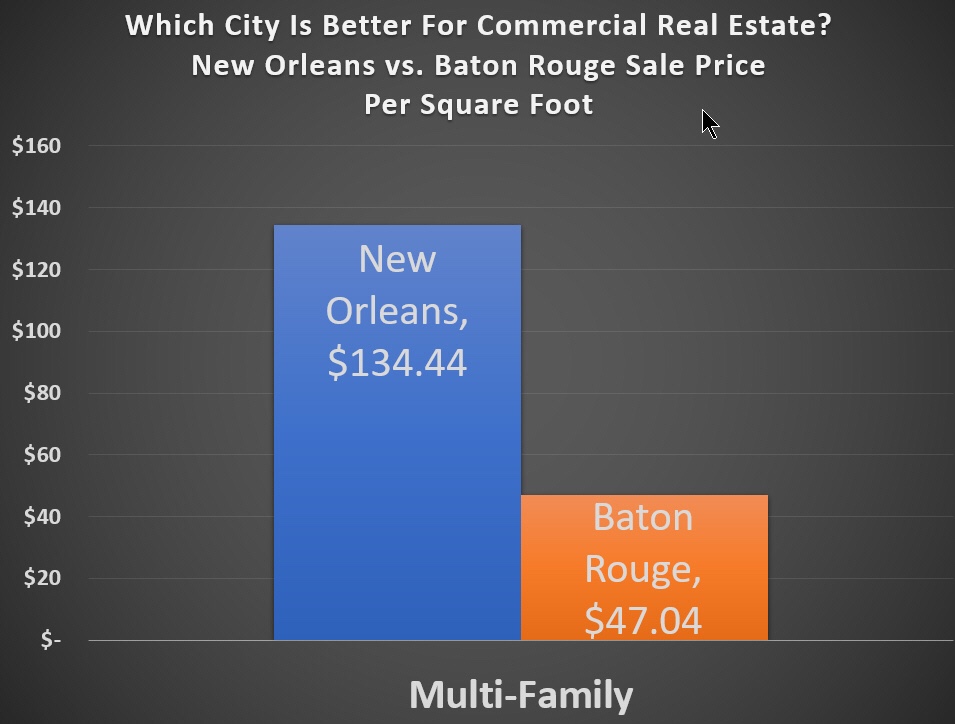 Apartments require such hands-on management that prices can be all over the board. New Orleans apartment sale prices average $134 vs. Baton Rouge at $47 per square foot because everyone wants to move to New Orleans causing rents to be higher, and after Katrina, developers overbuilt the Baton Rouge market when they were flooded with tax credits making new construction more feasible.