Louisiana Commercial Realty has authored more real estate articles than any broker in the state, published by the top commercial real estate and financial organizations, including CCIM, SIOR, Chief Executive Officer, and Personal Financial Planning who distribute articles to thousands of their members.
This week, Louisiana Commercial Realty published another article, "8 Things To Do When You Get Code Violations",  helping commercial real estate brokers advise their clients when properties encounter city code violations, and President Robert Hand explains:
"Code violations can be a costly problem for even the best looking commercial property and, if not handled properly, can not only result in expensive fines, but properties can be deemed blighted and can have liens placed on them. We have helped owners successfully navigate the maze at city hall, so we published an article using ur experience which will help other brokers be of more value to their clients because they will know what to look out for and how to handle these problems. We believe brokers can be of tremendous value to clients in providing knowledge and expertise when real estate problems arise, and this article is the latest in over 150 other articles where we use our experience to help other brokers and commercial property owners."
SIOR Is The Society of Industrial and Office Realtors
The publication was distributed to 3,200 members in 685 cities and 36 countries by SIOR (Society of Industrial and Office Realtors) , a prestigious, invitation-only, select group of the world's top performing commercial real estate brokers.
---
For a peek at more articles with timely information on commercial real estate, click Louisiana Commercial Realty blog.
Louisiana Commercial Realty recently helped Dr. Rashonda Dean, Tulane University graduate and OB-GYN, open a new office in New Orleans East to provide badly needed women's health care services to the 60,000 people in the area. Dr. Dean has admitting privileges at Touro University and is one of 49 doctors there who specialize in Obstetrics and Gynecology, but she is the only Touro doctor to have an office in New Orleans East.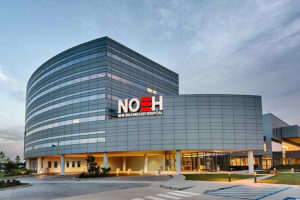 New $130 Million Hospital Can't Deliver Babies
Health care is improving in New Orleans East. Recently, the 60 bed New Orleans East Hospital, at a cost of $130 million opened to provide services in cardiology, colonoscopy, and orthopedics; however, the only women's services offered are mammography, ultrasound, bone density and general surgery. Where do women go when they need to deliver a baby?
Robert Hand, president of Louisiana Commercial Realty, explains how his company helped: As a commercial real estate broker, we have been working to revitalize New Orleans East for a decade now, and every day we fight the misperception that New Orleans East is not a good place to open up new businesses. The reality is that existing businesses are adding locations and new businesses are opening up, taking advantage of lowest rent rates and lowest prices on commercial property for sale. We helped Dr. Dean purchased a 4,000 square foot building at 5437 Crowder Boulevard, in great condition and ready to open as a doctor's office, for $175,000 and the same building in Metairie which averages $100 to $160 per square foot for office property, would have cost at least $400,000. New businesses are doing very well on Crowder, Read and Bullard, including a new Wal-Mart, Planet Fitness, Pizza Hut, Family Dollar, Dollar General, and CVS. As part of our marketing campaign, we reached out to professionals in the insurance, financial and medical industries. Since The New Orleans East Hospital does not provide services to deliver babies, we like the idea of OB-GYN Dr. Dean providing women's health care to the area. New Orleans East has a population of 60,00 people with 28,000 households averaging $42,000 annual income, and these are the workers in retail stores, restaurants and hotels that drive New Orleans' economy. Louisiana Commercial Realty is proud to do our part is improving women's health in New Orleans East.
by Robert Hand, MBA, CCIM, SIOR
In business school we are taught when the supply of any good or service increases, it will cause prices to fall, but even if you haven't studied economics you know when there is more of something, prices eventually drop. This is a basic law of economics, introduced in 1691 by philosopher John Locke and refined by Adam Smith in 1776 ; however, somebody forgot to tell New Orleans because for the last 4 years, despite the increase in supply of office space for lease, prices have actually gone up. This is bad news for entrepreneurs looking to move their home-based business out of the guest bedroom and into professional-looking offices so they can grow their business; and it is bad news for expanding businesses with lots of employees looking to add a New Orleans' location.
New Orleans/Metairie Office For Lease Snapshot February 2018
There are 912 office properties with vacant available space for lease in New Orleans including Metairie, and in February 2018, 23 of those were leased at rates from $15 to $18 per square foot. But that is just a snapshot, and much like an income statement it does not really tell you the trend in price. So we researched 1,109 reported office lease transactions from 2014 to February 2018, and discovered supply, as measured by square feet listed of lease, increased from 1.6 million to 4.6 million square feet, but prices also increased from an average of $12 per square foot to $18 per square foot. The chart compares office square feet for lease in the X-axis with price per square foot in the Y-axis. The blue trendline in the chart above shows the formula for the data comparing change in supply in square feet to lease price:
Y=8E-07x+14.11
or
Y=(8/10,000,000)x+14.11
Using the slope of the trendline to determine the relationship between increasing square feet and price, we conclude that 8E-07x means for every 1,000,000 square feet of new office space available for lease that prices increased 80 cents per square foot.
How Can Prices Increase When Supply Also Increases?
The increase in prices despite the increase in supply can only be attributed to a corresponding increase in demand to lease office space. This could be explained by demographics of more businesses starting in the New Orleans' area which drives the demand for leasing office space, or an increase in office lease prices in Metairie, which can compete with the New Orleans' market. In August 2015, The Data Center researched the trend in business start-ups in New Orleans and discovered new business start-ups doubled in the seven years post Katrina, flooding the city with entrepreneurs needing office space for their employees.
There are a few additional reasons why entrepreneurs are migrating to New Orleans, including a desirable low-cost of living, especially compared to San Francisco,  a diverse culture, and hip events with a vibrant night life to keep millennials entertained. New Orleans offers a 25 percent tax credit for qualified digital media expenditures and 35 percent tax credit for qualified angel investors, which was capped by a senator in Lafayette but in 2017 revitalized interest from movie producers and software companies.
---
For more information on the office sale market in New Orleans, go here for our article: Office Lease Rate Trend vs. Sale Prices In New Orleans and Metairie