Recently Louisiana Commercial Realty teamed with Orleans Parish Assistant District attorney Michael Danon to get one more criminal off the streets of New Orleans. The crime occurred in 2014, and it took 3 years to get the criminal arrested and to court which culminated this month in a trial before Judge Camille Buras in Orleans Parish Criminal Court where criminal Christopher Karl Stephan pleaded guilty to felony theft and fraud, waiving his right to a trial and agreeing to be classified as a multiple offender. Under article 893, the criminal was sentenced to 2 years' suspended time and 2 years' probation but must register with the Department of Corrections. The defendant's attorney, Thomas Myers, also delivered a money order for compensation to the victim.
Why Spend 3 Years And 3 Times The Fraud To Get The Criminal Arrested
Robert Hand, president of Louisiana Commercial Realty, was prepared to testify as an expert witness, but since the criminal pleaded guilty, the judge proceeded directly to sentencing. Hand explained,
"Today we moved one small step closer to reducing crime in New Orleans. The assistant district attorney asked me: 'why would anyone spend 3 years and 100 hours and 3 times the amount of the fraud to get the case before a judge?' The answer is because it's the right thing to do. My company is all about high ethical standards in real estate and this crime was real estate fraud. There is no end to how far I will go to do what is right and make sure others do the right thing also. It's about values and what you stand for. I believe crimes for $100,000 start with crimes of $1,000 and even small crimes have to be stopped and have to be stopped today. But it was a team effort. The assistant district attorney did his part in not letting it fall through the cracks and 2nd district commander Paul Noel did his part in pushing it forward and Judge Cantrell did his part in issuing the arrest warrant and Judge Camille Buras did her part in sentencing. All we needed was a quarterback to keep the team together."
Hand was responsible for providing details of the real estate crime, and working the case through the criminal system. Here are the shocking details of a little crime that easily could have been forgotten but is a classic example of why crime in New Orleans has been high for decades.
June 2014-The Shocking Details
Hand reported the crime in June 2014, to the 2nd District police station for the uptown area where the crime occurred and also tried to file with police chief Gary Marshall in Pass https://www.cialissansordonnancefr24.com/ Christian, Mississippi, where the criminal lived, but the police would not accept a police report, saying it was a civil matter.
October 2014
Hand contacted the Mississippi Attorney General who said they did not have jurisdiction, but Hand was able to file in Harrison County Justice Court, which is similar to small claims court; however, the clerk of court was unable to serve the criminal a subpoena to command him to appear in court. The clerk said, "Apparently the defendant has moved and the sheriff serving the subpoena only has to make an attempt to serve. There is fee each time the sheriff even attempts to serve a subpoena."
October 2014-Private Detective
Hand hired a private detective, who was able find the criminal by placing a real estate craigslist ad, and served the subpoena when the criminal responded to the ad. In October 2014, Judge Ladner issued an arrest warrant when the criminal did not show up for the court date as instructed in the subpoena.
About the same time, the New Orleans 2nd district police Detective Honore processed the report and asked Hand to come to the station to identify the perp. After showing Hand several old photos from what the officer thought were driver's license photos, Hand was unable to pick out the criminal from the old photos, leading Officer Honore to say she could not process an arrest warrant unless the criminal could be picked out. Hand provided a photo from the criminal's Facebook page and offered that photo for positive identification, but Officer Honore said the criminal had to be selected from the photographs provided by police.
November 2014-This Case Is A No-Brainer
Hand followed up with dozens of calls to the 2nd district captain and detectives, but was always transferred to a number with an answering machine. Hand was able to connect with another 2nd district policeman, Officer Rigamer, who said after seeing the evidence that the "case is a no-brainer", but Hand was never able to get phone calls answered or move the case along to get an arrest warrant issued until a new 2nd district commander was appointed, Paul Noel, who asked Detective James and Sargent Keller to review the file. By then, Hand had prepared a spreadsheet timeline, describing the situation and police inactivity which he sent to the district commander. In November 2014, assistant district attorney Andre Gaudin agreed to pursue the case as felony theft and contractor fraud, and was able to get Judge Cantrell to sign an arrest warrant.
3 Years Later-All Because Of A Traffic Stop
Three years passed without a word. In 2017, the perp was picked up in a traffic stop and when the arrest warrant popped up in his file, he was taken into custody. Assistant District Attorney Brian Ebard contacted Hand in July 2017, to say if the case goes to trial that the jury will be sympathetic, and suggested he let the criminal plead guilty to a misdemeanor and pay money. Hand staunchly refuted allowing a pleading to a lesser charge and demanded the assistant district attorney accept only a felony pleading.
September 2017-Finally In Court
In September 2017, Ebarb was out and assistant district attorney Michael Danon was in, and he reminded Hand of the same likely outcome of a jury letting the criminal go free. Hand asked to only allow a pleading to a felony not a misdemeanor.
Once the case got before criminal court Judge Camille Buras in October 2017, the perp saw the evidence against him and noticed Hand showed up in court to testify with documents. The 2nd district police officer did not show up to testify even though the assistant district attorney requested it. The criminal waived trial by jury and pleaded guilty to not only one felony, but two, and after sentencing was arrested again by sheriffs waiting in the courtroom for a different crime exceeding $100,000.
---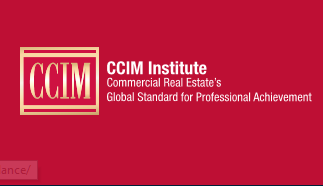 CCIM, the Certified Commercial Investment Member Institute, recently interviewed Louisiana Commercial Realty for their publication on entrepreneurs in commercial estate. Founded over 50 years ago, the CCIM Institute is commercial real estate's most influential professional organization, with members closing $200 billion annually in commercial real estate deals. The CCIM designation represents the highest achievement in commercial real estate because it usually takes members 3 years to earn due to its rigorous education and testing requirements.
The CCIM Institute's award-winning magazine isCommercial Investment Real Estate which covers the latest analysis and insight into all facets of the commercial real estate industry. Recently their executive editor interviewed Louisiana Commercial Realty president Robert Hand on topics ranging from how entrepreneurs think differently to how they utilize technology to help clients make better decisions. Here are a few insights:
CIRE magazine executive editor Sara Patterson: Why did you decide to become an entrepreneur rather than join a large firm or franchise?
Hand:I worked in large commercial real estate firms for several years and always felt I could do a better job. The large commercial real estate platform added no value to me or for my clients and stifled my creativity. By owning my own firm, I can make immediate decisions and respond more quickly to market opportunities, providing a higher level of service to my clients.
CIRE: In what ways have you been able to set your business apart from your competitors?
Hand: I call it my competitive advantage. It is what I do differently than my competitors, and it is simply working harder but also smarter. I use the CCIM designation to give me access to resources so I can provide a higher level of services to clients. I rarely lose even in a competitive presentation for a listing because I put more thought into the highest and best use for the property and I use all the tools available through the CCIM Site To Do Business to really make an impact.
CIRE: Does your business have a specific niche? If so, what have you focused on?
Hand: Our specialty is that we generalize. Louisiana Commercial Realty is based in New Orleans which is a small market, so we work in all sectors of commercial real estate. The only sector we don't operate in is residential single family homes, and we refer that business to residential agents we trust. We specialize in large, complicated properties and have brokered the sale of the largest land disposition in the area, one of the largest industrial sales, assembled property for most of the new apartment developments, and negotiated the largest Class A office lease. I also own Mississippi Commercial Realty which is based in Hattiesburg, an even smaller market but with a thriving retail sector.
CIRE: How have you developed your team to support and to advance your business?
Hand: When I started my business, I wanted to keep my costs low so I did all the marketing research, advertising, web design, graphic design and presentations, contract drafting, and accounting. I even put up the for sale signs myself. I wanted control to produce the highest quality product, down to the smallest details. Now I have a support staff that works for me on a project basis as needed, and I handle all the sales. But I needed that early experience in each job function to be able to delegate and train support staff how to provide the same quality product.
CIRE: Has your business evolved into other sectors of commercial real estate? And have you expanded the type of clients beyond the local marketplace for your business?
Hand: We look for interesting projects where we can make an impact and are constantly working in new areas with new clients. There is a real need for the services we offer, and I am often told by clients that our advice and services are far beyond what other brokers are offering. We like to think we are good for the industry and try to help other agents even when they compete against us. I opened an office in Hattiesburg, Mississippi, because there is a growing retail sector there that is underserved. I look for markets where I can add value, and even though there is a "good ol' boy mentality" I usually find clients will do business with you over their high school buddy when you put more thought into their situation.
CIRE: How has your CCIM training helped you launch and expand your business?
Hand: It is the first thing I tell people I am considering working with. I explain what the CCIM designation is, and how it benefits clients. Hopefully, the CCIM Institute can get the word out so clients will start asking for the designation. The residential agents have a national lobby group, state lobbyists, and even city lobbyists, so the commercial real estate trade associations need to get on board.
CIRE: Do you use CCIM technology in your business? If so, how does it help you compete for clients with larger firms?
Hand: Yes, technology is a tool we always use to add value. The CCIM designation gives me access to technology through the Site-To-Do-Business database. I am able to create reports including the latest lifestyle demographics, pictometry satellite photographs, flood maps, consumer spending spreadsheets, infographics and market prices that we use in every presentation. It takes time to learn the technology and deep thought as to how to organize it, but it makes a commanding marketing plan and helps clients understand they are hiring a professional. But the secret is not just gathering information. I spent time in the appraisal industry, writing 100 page appraisals that required opinions and judgements in addition to data, and clients need that same honest judgement and somebody with real expertise putting serious thought into their situation and sometimes having difficult conversations but providing real insight because they have worked hard to add value to the relationship.
---
For published articles on commercial real estate by Robert Hand, read: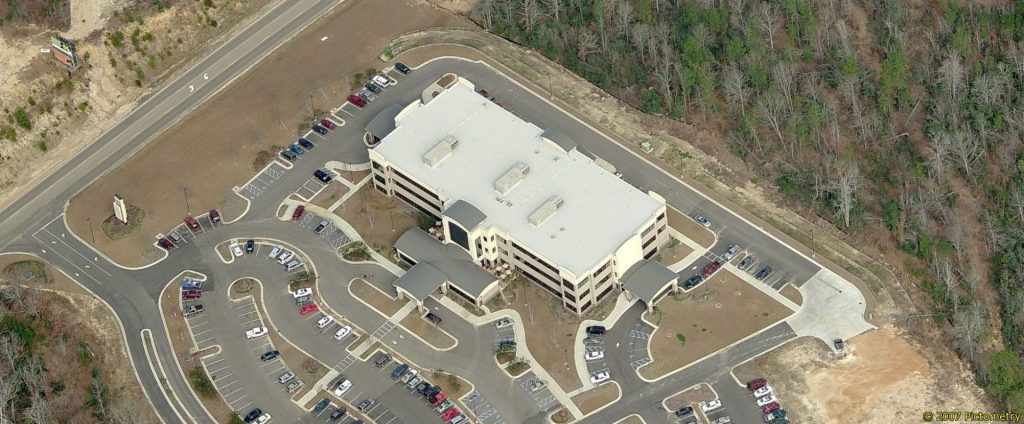 Louisiana Commercial Realty and its sister company Mississippi Commercial Realty recently talked with the University of Southern Mississippi to explore helping new medical research companies get a fast start with office space in the only Class A medical office building available in the Hattiesburg, Mississippi area. Mississippi Commercial Realty is exclusive leasing agent for the One Lincoln Parkway Medical Center and is holding talks with dialysis companies, laboratory research groups, cialis 5mg prix en pharmacie physicians and medical institutions who need to expand or start new businesses.
Mississippi Commercial Realty president Robert Hand explains,
"There is a real need for Class A medical office space in the Hattiesburg area to serve as incubator space and help new medical software and biotechnology prosper. Our vision as commercial leasing agent is to offer a physical space and resources that facilitate new developments in the medical industry. For example, we would like to offer research companies access to a state-of-the-art equipment library including leading edge microscopes and testing equipment. What this means is that start-up companies can utilize their resources on people rather than on assets."
Hand believes start-up companies need a high-end medical facility to attract the smartest employees who are at the core of creating new medical breakthroughs.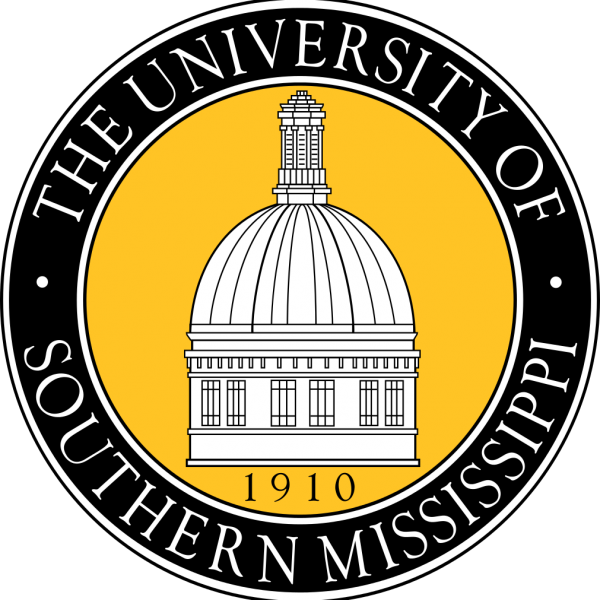 Recently, Chase Kasper, Assistant Vice President for Research and Technology Transfer at the University of Southern Mississippi toured the building and discussed the need for laboratory space when the university is awarded research grants, such as the recent $3 million award from the Department of Defense to encourage entrepreneurs toward innovation and creating commercial opportunities. Rather than using the grant funds to build a building, Kasper said there is a need to utilize existing medical space which allows research to start immediately. There may even be a need to utilize the medical office space as a classroom where students can intern with existing tenants Hattiesburg Clinic and Forrest Health, who are the largest medical providers in south Mississippi.
Hand says, "We are trying to think ahead and offer a medical facility where bright and creative tenants can have everything they need to make a real impact on the medical industry. We hope they create things that change the world and make the Hattiesburg area a leader in medical research."
---
Civil District Court Judge Bruno listened to both attorneys then made some notes and concluded "I find Louisiana Commercial Realty testimony credible and find the defendant, James Ramsey, tried to conceal the sale of property from the listing agent." The controversy occurred after seller Ramsey hired the listing agent but then secretly sold the 10 acre property on Read Road without disclosing it to the listing broker they hired.
The lawsuit is compounded by the fact that the sale was hidden for years so a hearing was required to first address how much time a person has to file a lawsuit and whether or not anyone knew about the wrongdoing. Normally 10 years is the time period allowed to file a lawsuit but if it concerns lost commissions the time period is shortened to 3 years. It's called prescription but not the kind a doctor gives you. It's the process of making claim to something. In this case, the seller hid the sale for longer than 3 years and claims the time allowed to file suit had expired.
The problem arises in commercial real estate when a buyer and seller collude to avoid paying an agent's commission. Since property sale information doesn't always find its way into the city assessor website, it can be years before a property sale can be discovered-if the buyer and seller hide the transaction. After hearing all the testimony, Judge Bruno ruled that seller Ramsey did conceal the sale of the 10 acre property for $1,500,000 during the listing period. The judge also ruled that Louisiana Commercial Realty exercised reasonable efforts and had discussions with Ramsey during the listing period. Judge Bruno ruled that the 3 year deadline to bring suit did not apply since the seller misled the listing agent.
The listing broker at the time, Robert Hand, explains:
"This is a victory for the commercial real estate industry which is vastly different from residential and also different in New Orleans than other cities because often the listing agent will spend years marketing a property before it sells. The commercial real estate industry depends on sellers being honest with us because we invest our time and pay for all the advertising up front and take the risk of working on property for years before something happens. I felt it the right thing to do to bring this case before the court and stand up for the commercial real estate industry in New Orleans and the entrepreneurial commercial property agents trying to put properties back into commerce and make this city a better place to live."
---
A plunging Louisiana unemployment rate to 5.2 percent means good times are back, right? Not so fast.
Even through the low unemployment rate was promoted not only by Governor Edwards, but also the Louisiana Workforce Commission, CNN Money, and US News & World Report, the fact is: things actually have gotten worse. If you work through the math and look at the facts, you will see why Louisiana has millions of disgruntled workers and why Trump got elected president.
It's all in the math. True, the unemployment rate has dropped the last few years. Three years ago the rate unemployment rate was 6.80% and now it is 5.20%.
The deception is that we assume if the unemployment rate has decreased, then the number of unemployed has also decreased, and the number of employed has increased. The tweets and press releases boast how low the unemployment rate has fallen but we hear nothing about the actual numbers. And it's not like we can't track the data. The Bureau of Labor Statistics tracks the number of people in the labor force, number not working, working, and the hours and turnover, for the nation, each state, county or parish and city metropolitan statistical area, and does so by industry NAICS code. Be smart about where you get your news and this article will help. The data is there but you have to dig through it.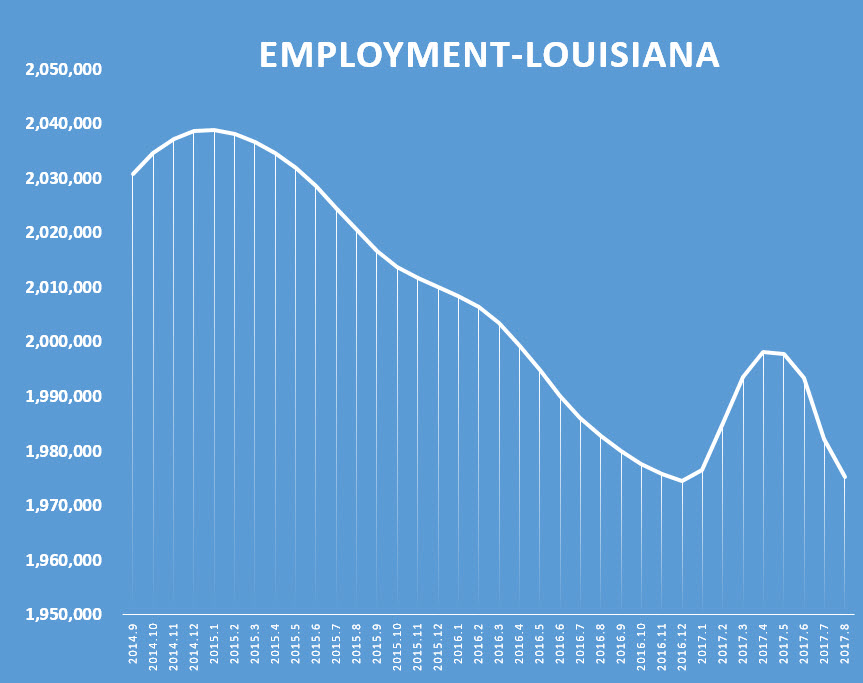 The data show the last 3 years that Louisiana employment decreased 55,468 during the same period when the unemployment rate fell. So how can the unemployment rate decline but the number of people working also decline? It's all in the math, but you don't hear about that. The unemployment rate is calculated as the number unemployed divided by the number in the work force. If the numerator (unemployed) declines, but the denominator (labor force) declines more, then the unemployment rate will fall.
The last 3 years saw the Louisiana labor force decline by 96,231, which explains how employment can decline by 55,468 but allow the unemployment rate to decline from 6.80% to 5.20%.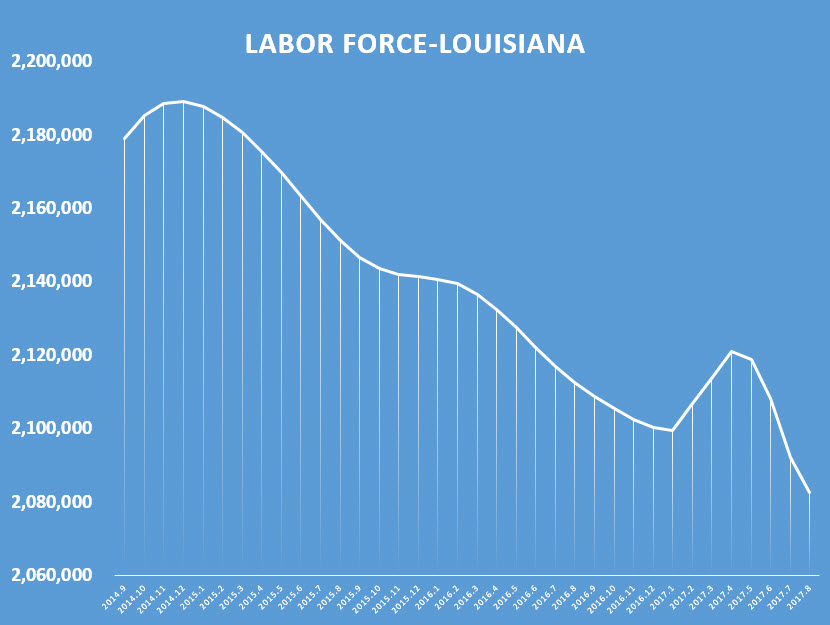 So what are the reasons for decline in the labor force? One could be a declining population. In the 2010 census, the population of Louisiana was 4,533,479 and estimates for last year were 4,681,666, an increase of 148,187 people or .53% annual growth. Estimates of population increase for the last three years have been around 75,000, so that can't explain the labor force decline. Another explanation is how the labor force calculation excludes those who have "given up looking for work". They are called discouraged workers and are excluded for these reasons:
They believe no job is available to them in their line of work or area.
They had previously been unable to find work.
They lack the necessary schooling, training, skills, or experience.
Employers think they are too young or too old.
They face some other type of discrimination.
In summary, the last 3 years the Louisiana population increased approximately 75,000 and labor force declined 96,231. What would cause the labor force to decline during a period of increasing population? The best guess is the inability of baby boomers to keep up with a changing economy fueled by growth in technology. Add Louisiana's 96,231 declining labor force workers to Michigan, Pennsylvania and Wisconsin to get the discouraged worker total high enough to generate 304 electoral votes that put Trump in office, and you'll start to understand what is happening to the US economy too. This technological change leaving millions of workers behind explains why GDP growth will never get back to the 4% Federal Reserve target and why banks are proud to say they can offer a whopping 1.6% interest rate on 4 year CD's. Until we retrain discouraged workers and put them back into the labor force, the US will never have more than a meager economy and soon will be left in the dust by stronger economies of China and India.
---
For more information on how the misleading unemployment rate defines our lethargic economy, read our articles:
*What You Don't Know About The Unemployment Rate
*Mixed Martial Arts: New Orleans vs. Personal Income Growth
*Does the US Employment Rate Affect New Orleans' Economy