The hotel and restaurant industries are the driving forces of the New Orleans non-government economy, employing over 75,000 people according to the latest numbers from GNO Inc. and Economic Modeling Specialists International. These hotel workers are an integral part New Orleans' ability to satisfy current tourism and while future growth requires even more hotels, that doesn't mean any old carpet bagger can build a hotel just anywhere in this city.
According to the National Travel and Tourism Office, the number of international tourists traveling to New Orleans grew by more than one-third last year, the largest one-year increase of any major U.S. city.  One reason is the popularity of the WWII Museum, which is now the 4th most popular attraction in the United States. Tourism growth makes hotel development less risky which has attracted hotel buyers to consider New Orleans as a serious market. Sale prices in New Orleans are commanding up to $300,000 per room, nearly double their value prior to Hurricane Katrina in 2005. Although monthly RevPAR has slowed due to a lack of space for new hotel developments, annual figures show strong year-over-year growth, with $103 RevPAR in the Central Business District and the French Quarter experiencing a 67% increase over the last 5 years. Hotel occupancy rates are averaging 80% in New Orleans, exceeding the national average.
Table 1: Hotels In Progress Or Under Construction
Hotel Acquisition Process
Due to the lack of approved zoning for hotel use in the most popular tourism areas, developing hotels has become more complex. The French Quarter is not zoned for hotel use and only currently operating hotels are allowed. In addition, there are no hotels for sale that meet our criteria of at least 100 rooms.
Market Overview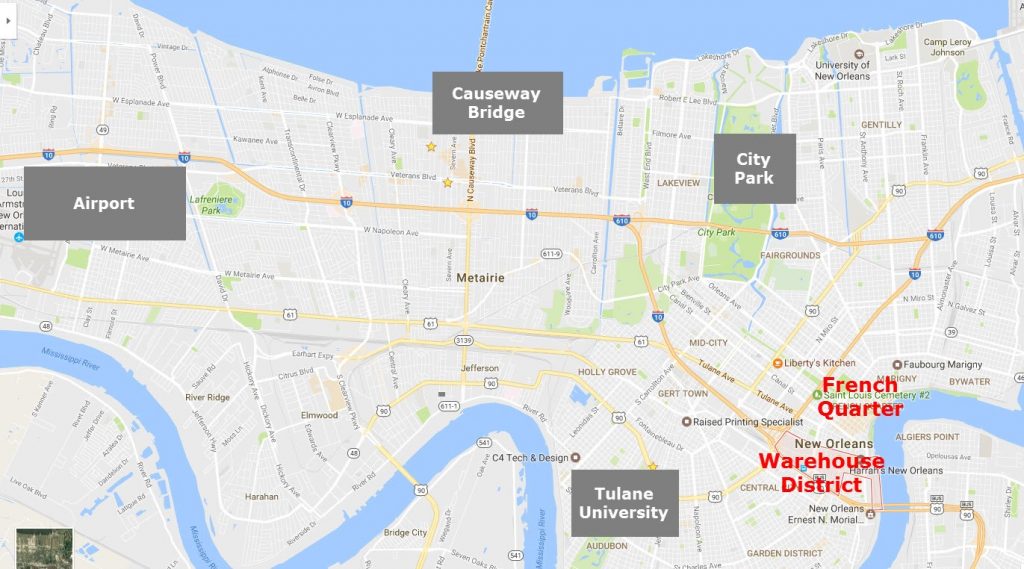 Neighborhoods
The French Quarter is approximately 14 miles east of the airport and is the epicenter of tourism, holding 75% of all hotels in the city. The French Quarter neighborhood is no longer zoned for hotel development, so most new hotels are located in the Warehouse District, a 10 square block area, which is closer to the 1.1 million square foot New Orleans Convention Center.
Warehouse District and French Quarter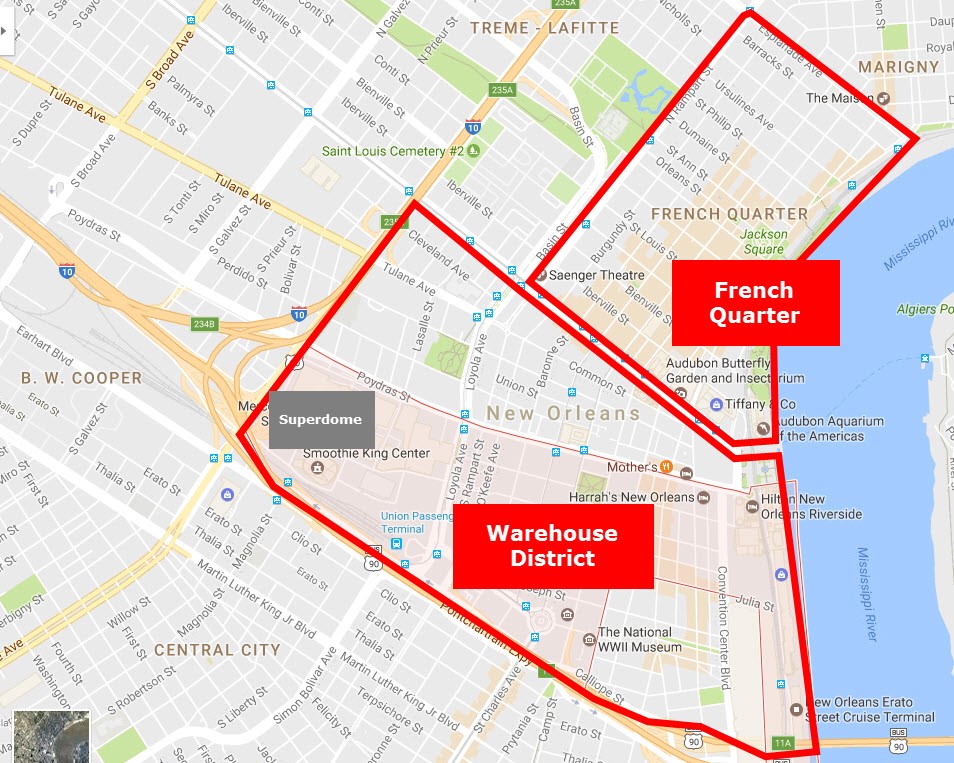 Canal Street separates the French Quarter and the Warehouse District, and properties fronting Canal Street are zoned for hotel use because technically they are outside the French Quarter. Starting in the 1980's, Canal Street lost its attraction and Poydras Street, just three blocks away, became the new main street due to development of several class A office tower buildings.
Zoning Required
Hotels are only permitted in these zoning districts:

Hotels are a conditional use in HMC-2, HUMU, HI, CBD-5 and HMMU. No new hotels are permitted in the French Quarter which has various VCC zoning.
We Have Already Done The Research On The Best Potential Locations
Taking into account zoning permitted uses, demographics, traffic patterns, forecasted room rates, proximity to the Convention Center and the French Quarter, these locations are our best picks. Some sites are listed for sale and some unlisted. The best sites are usually purchased before they become listed. Some sites are privately owned and some are public property which can complicate the development.
1315 Gravier
Zoned CBD-7. 172 rooms, 120,000 SF, 12 story, on 27,000 SF lot, built in 1952 and renovated in 2000, and again in 2006 with a $6,000,000 project, but has been vacant since then. The existing building was certified as a historic structure in October 2006 by the National Park Service, qualifying it for Federal and State Tax Credits. Not listed for sale.
City Owned Parking Lot Near Jackson Square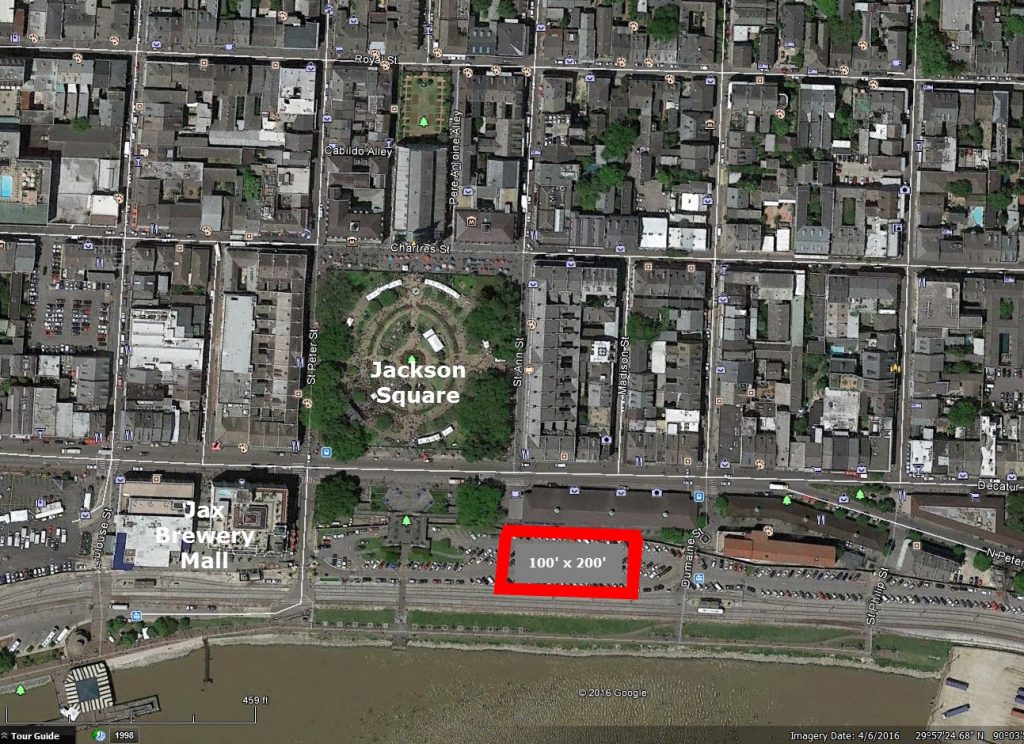 The city of New Orleans owns and leases to the public approximately 50 retail spaces and parking lots in the French Quarter surrounding Jackson Square, the epicenter of tourism and a premier hotel location. There is a 5 block 100' wide strip used as parking which would make the best hotel location in the city but it is not listed for sale and the city would have to put the property out for bid and make changes to zoning and obtain approval by the mayor and city council.
Fulton Place Garage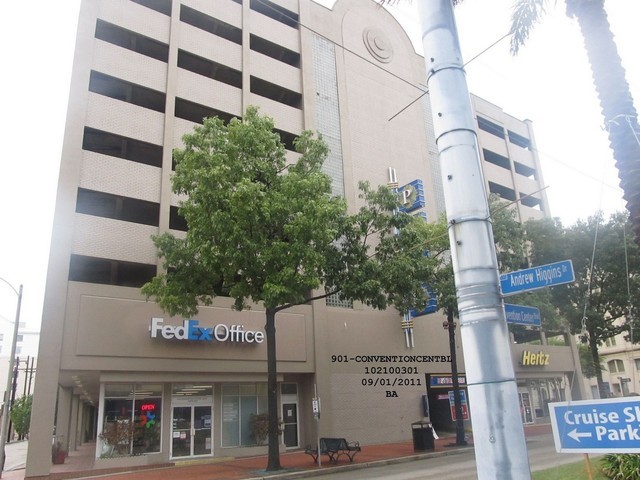 Zoned CBD-2. Purchased in 2011 for $6,500,000, eight stories with 36,000 SF footprint. Opposite the New Orleans Convention Center. Not listed for sale.
842 Magazine Street
Zoned CBD-5. 27,000 SF parking lot. Not listed for sale.
1000 Tchoupitoulas
Zoned CBD-6. High eave Boland Marine warehouse on 61,000 SF land. Not listed for sale.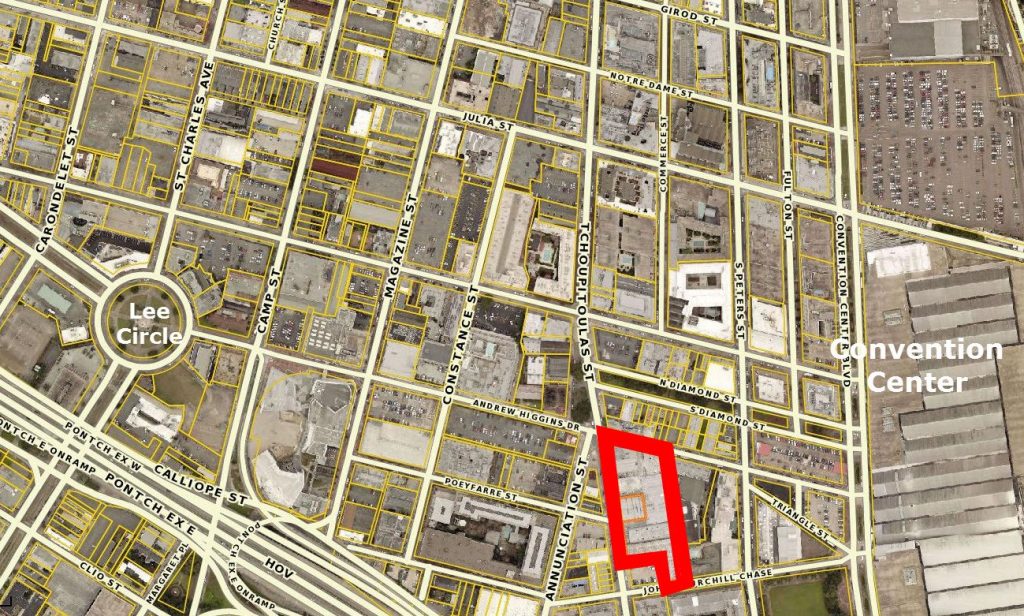 902 St. Charles Avenue
Zoned CBD-3, 42,000 SF parking lot located one block from the World War II Museum, the newest attraction in New Orleans with almost 1,000,000 visitors annually, ranking it the 4th most popular museum in the US. Not listed for sale.
531 Poydras Street
25,000 SF parking lot. Zoned CBD-2. Previous site of planned Trump Hotel. Poydras Street is the main street in New Orleans, populated by the most Class A office towers. 531 Poydras is 3 blocks from Harrah's Casino and the planned $364,000,000 Four Seasons development in the International Trade Mart at the foot of Poydras Street. Not listed for sale.
500 Poydras-Piazza D'Italia
Zoned CBD-1. Owned by the City of New Orleans but managed by the New Orleans Building Corporation, so the lease income can be donated to charities selected by the mayor. The 47,000 SF lot and public fountain was donated to the city in return for other land eventually developed into a hotel. The lot was once under contract to be developed as a Hard Rock Hotel but negotiations fell apart when the city was too restrictive.
222 Loyola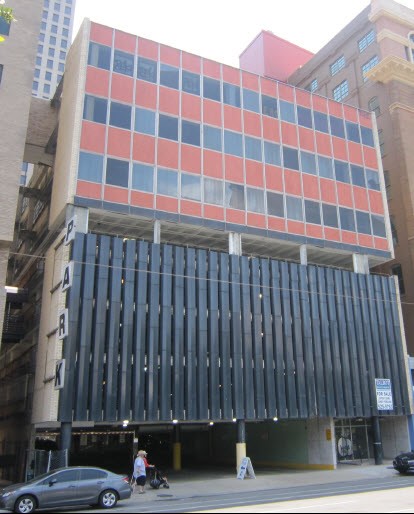 Zoned CBD-1, floors 6, 7 & 8, and part of lobby, totaling 52,000 SF. Listed for sale at $5,300,000.
Summary
The result is that most hotels are developed on the outskirts of the French Quarter where parking lots or warehouses can be acquired and re-purposed, but none are listed for sale; therefore, the best strategy is to identify unlisted sites and negotiate with the owner to sell the property. This requires identifying several potential sites with realistic expectations of being successful with only one or two. Developing a hotel in New Orleans requires creativity in adaptive re-use; for example, in one hotel development 4 vacant floors of Class A office tower were converted into Hyatt hotel space. Remember New Orleans is almost 300 years old and every inch has something built on it already.
---
Sources:
Downtown Development District
University of New Orleans
Bureau of Labor
https://www.bls.gov/regions/economic-summaries.htm#LA