The state of Georgia is one of the most efficient managers of its 2,000 office leases, with only a staff of 10 people each managing a portfolio up to 300 properties including renewals and expansions, plus new lease transactions.
Solutions To The Challenges of Managing Thousands Of Leases

 Today, Louisiana Commercial Realty met with the State Properties Commission to discuss challenges and solutions to managing the multitude of lease contracts with such a small staff. Since the Properties Commission has most of the government agencies as clients, there are always state budget restrictions that sometimes conflict with the needs of the client so a strict process and procedure is followed which is not usually found with non-government office tenants. There are similarities however, such as competing stakeholders with different objectives, which often leads to conflict.
Robert Hand, president of Louisiana Commercial Realty, discussed solutions to conflict that arises from managing so many leases, and described several scenarios detailing how methods of communicating between the many parties involved can build trust. One technique discussed is when all parties, including the agent, landlord, future tenant, and attorney are first interviewed to discuss needs and then involved in developing a timeline and benchmarks.
Hand summarized, "First you meet with your client, who in this case is a state agency, to determine their needs, then you educate them on what works in the existing marketplace and within budget. You build trust by telling people what you are going to do, then doing it, then reminding them what you did."
Hand discussed how negotiating lease contracts can be simplified by categorizing the various lease terms and weighting their importance. In any lease agreement there are variables, such as the base lease rate, rent escalators, hours of access, after hours air conditioning costs, janitorial costs, tenant improvement allowances, renewal options and cancellation language. Identifying known and unknown risks among these variables can help a tenant determine where they are most vulnerable and negotiate in the lease to transfer that risk to the landlord.
How To Stay Organized To Be More Productive
Since each staffer manages up to approximately 300 leases, staying organized is a must. Hand shared technological strategies the staffers could use to stay organized, such as implementing a software system to track lease expiration and terms, recording discussions with vendors and clients, storing documents and each stakeholder's contact information. Staffers in the field can also use old school Microsoft Outlook to sync notes and appointments between iPhone and a laptop so being out of the office doesn't mean being out of touch.
---
For more information on managing office leases, read these articles:
*The 5 Things Every Lease Should Have
*Why Negotiating Is Like A Tennis Match
*Lease 101-Why The CPI Escalator Is The Most Important Thing In A Lease Agreement
---
The hotel and restaurant industries are the driving forces of the New Orleans non-government economy, employing over 75,000 people according to the latest numbers from GNO Inc. and Economic Modeling Specialists International. These hotel workers are an integral part New Orleans' ability to satisfy current tourism and while future growth requires even more hotels, that doesn't mean any old carpet bagger can build a hotel just anywhere in this city.
According to the National Travel and Tourism Office, the number of international tourists traveling to New Orleans grew by more than one-third last year, the largest one-year increase of any major U.S. city.  One reason is the popularity of the WWII Museum, which is now the 4th most popular attraction in the United States. Tourism growth makes hotel development less risky which has attracted hotel buyers to consider New Orleans as a serious market. Sale prices in New Orleans are commanding up to $300,000 per room, nearly double their value prior to Hurricane Katrina in 2005. Although monthly RevPAR has slowed due to a lack of space for new hotel developments, annual figures show strong year-over-year growth, with $103 RevPAR in the Central Business District and the French Quarter experiencing a 67% increase over the last 5 years. Hotel occupancy rates are averaging 80% in New Orleans, exceeding the national average.
Table 1: Hotels In Progress Or Under Construction
Hotel Acquisition Process
Due to the lack of approved zoning for hotel use in the most popular tourism areas, developing hotels has become more complex. The French Quarter is not zoned for hotel use and only currently operating hotels are allowed. In addition, there are no hotels for sale that meet our criteria of at least 100 rooms.
Market Overview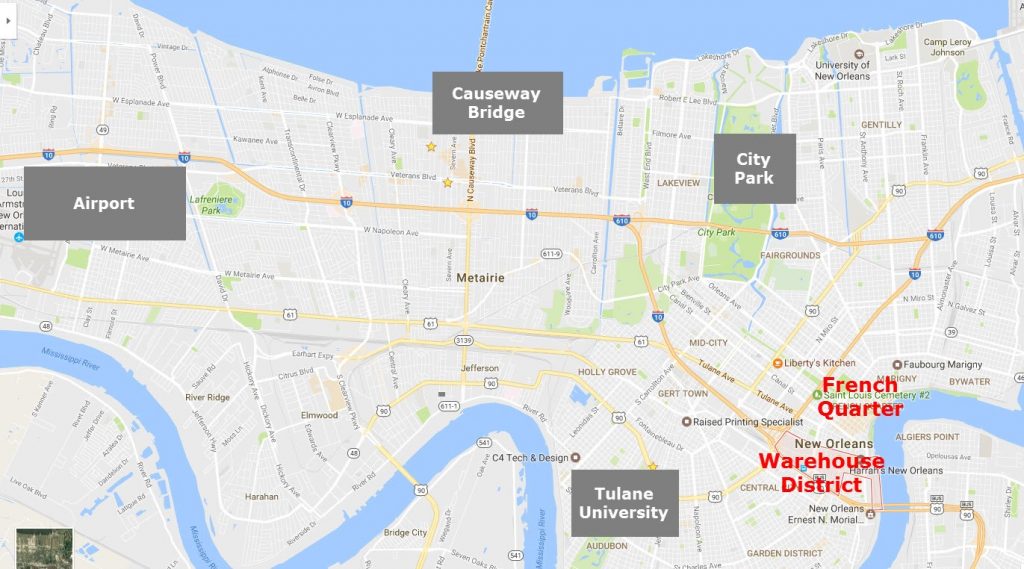 Neighborhoods
The French Quarter is approximately 14 miles east of the airport and is the epicenter of tourism, holding 75% of all hotels in the city. The French Quarter neighborhood is no longer zoned for hotel development, so most new hotels are located in the Warehouse District, a 10 square block area, which is closer to the 1.1 million square foot New Orleans Convention Center.
Warehouse District and French Quarter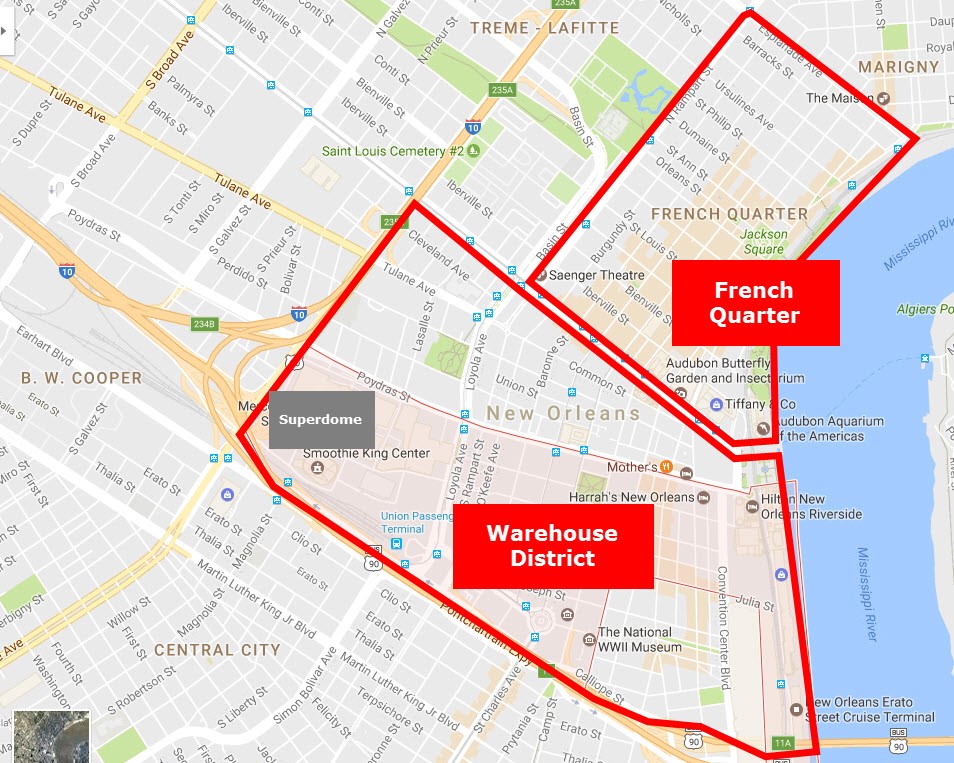 Canal Street separates the French Quarter and the Warehouse District, and properties fronting Canal Street are zoned for hotel use because technically they are outside the French Quarter. Starting in the 1980's, Canal Street lost its attraction and Poydras Street, just three blocks away, became the new main street due to development of several class A office tower buildings.
Zoning Required
Hotels are only permitted in these zoning districts:

Hotels are a conditional use in HMC-2, HUMU, HI, CBD-5 and HMMU. No new hotels are permitted in the French Quarter which has various VCC zoning.
We Have Already Done The Research On The Best Potential Locations
Taking into account zoning permitted uses, demographics, traffic patterns, forecasted room rates, proximity to the Convention Center and the French Quarter, these locations are our best picks. Some sites are listed for sale and some unlisted. The best sites are usually purchased before they become listed. Some sites are privately owned and some are public property which can complicate the development.
1315 Gravier
Zoned CBD-7. 172 rooms, 120,000 SF, 12 story, on 27,000 SF lot, built in 1952 and renovated in 2000, and again in 2006 with a $6,000,000 project, but has been vacant since then. The existing building was certified as a historic structure in October 2006 by the National Park Service, qualifying it for Federal and State Tax Credits. Not listed for sale.
City Owned Parking Lot Near Jackson Square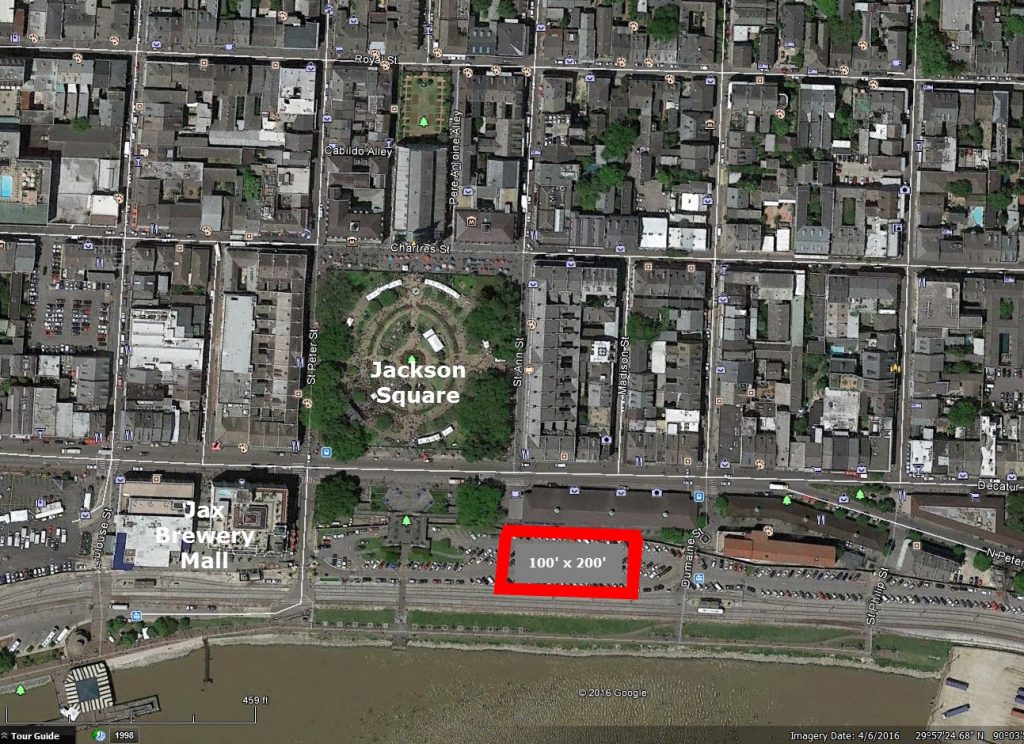 The city of New Orleans owns and leases to the public approximately 50 retail spaces and parking lots in the French Quarter surrounding Jackson Square, the epicenter of tourism and a premier hotel location. There is a 5 block 100' wide strip used as parking which would make the best hotel location in the city but it is not listed for sale and the city would have to put the property out for bid and make changes to zoning and obtain approval by the mayor and city council.
Fulton Place Garage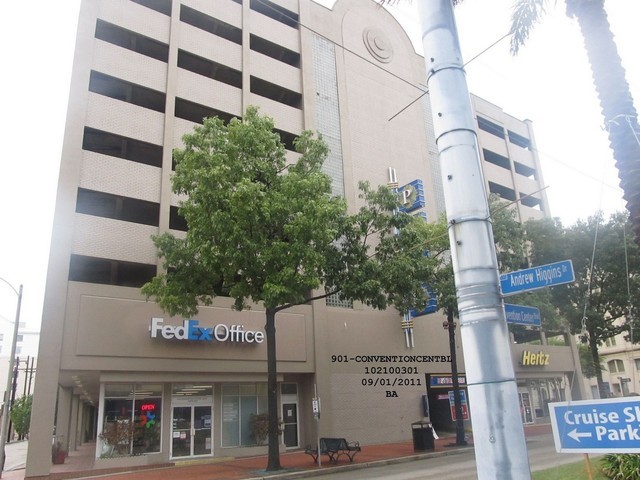 Zoned CBD-2. Purchased in 2011 for $6,500,000, eight stories with 36,000 SF footprint. Opposite the New Orleans Convention Center. Not listed for sale.
842 Magazine Street
Zoned CBD-5. 27,000 SF parking lot. Not listed for sale.
1000 Tchoupitoulas
Zoned CBD-6. High eave Boland Marine warehouse on 61,000 SF land. Not listed for sale.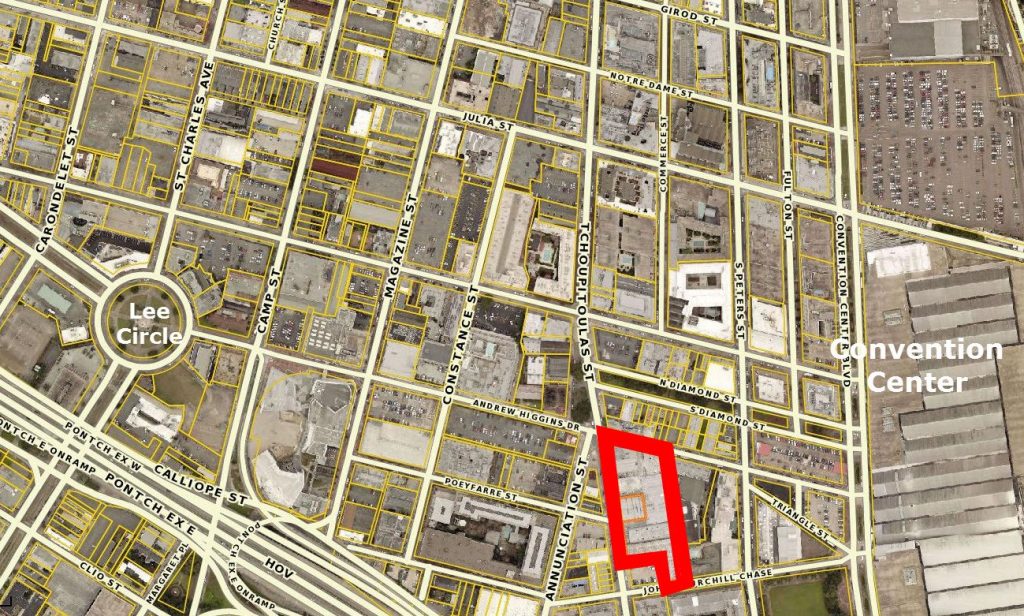 902 St. Charles Avenue
Zoned CBD-3, 42,000 SF parking lot located one block from the World War II Museum, the newest attraction in New Orleans with almost 1,000,000 visitors annually, ranking it the 4th most popular museum in the US. Not listed for sale.
531 Poydras Street
25,000 SF parking lot. Zoned CBD-2. Previous site of planned Trump Hotel. Poydras Street is the main street in New Orleans, populated by the most Class A office towers. 531 Poydras is 3 blocks from Harrah's Casino and the planned $364,000,000 Four Seasons development in the International Trade Mart at the foot of Poydras Street. Not listed for sale.
500 Poydras-Piazza D'Italia
Zoned CBD-1. Owned by the City of New Orleans but managed by the New Orleans Building Corporation, so the lease income can be donated to charities selected by the mayor. The 47,000 SF lot and public fountain was donated to the city in return for other land eventually developed into a hotel. The lot was once under contract to be developed as a Hard Rock Hotel but negotiations fell apart when the city was too restrictive.
222 Loyola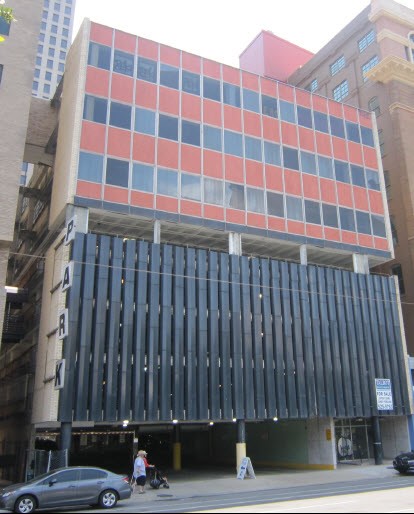 Zoned CBD-1, floors 6, 7 & 8, and part of lobby, totaling 52,000 SF. Listed for sale at $5,300,000.
Summary
The result is that most hotels are developed on the outskirts of the French Quarter where parking lots or warehouses can be acquired and re-purposed, but none are listed for sale; therefore, the best strategy is to identify unlisted sites and negotiate with the owner to sell the property. This requires identifying several potential sites with realistic expectations of being successful with only one or two. Developing a hotel in New Orleans requires creativity in adaptive re-use; for example, in one hotel development 4 vacant floors of Class A office tower were converted into Hyatt hotel space. Remember New Orleans is almost 300 years old and every inch has something built on it already.
---
Sources:
Downtown Development District
University of New Orleans
Bureau of Labor
https://www.bls.gov/regions/economic-summaries.htm#LA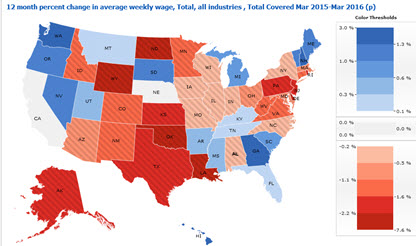 Whether you rent office space, a warehouse, or a retail store, your lease probably has language that ties rent you pay to the Consumer Price Index. The idea is meant to benefit only the landlord, because the rental income retains its purchasing power. The problem is that there is more than one Consumer Price Index and there are different ways to calculate each, so make sure your lease agreement contains language that is very specific. One example of lease language referencing the CPI is:
The rental under this lease shall be four ($4.00) dollars per square foot for the first twelve (12) months, with annual adjustments tied to the Consumer Price Index (published by the Bureau of Labor Statistics, All Urban Consumers, Current Series, Index) for the previous calendar year period.
Five Things Every Lease Should Make Clear
It Is Clear Where The CPI Is Published-If rent is tied to an index, what index is used and where can you find it? The above lease language spells out that the rent is adjusted by the Consumer Price Index, and tells the information is published by the Bureau of Labor Statistics, which is found easily online.
It Is Clear What Type of Consumer Price Index Is Used-There are 4 methods used to calculate the Consumer Price Index:

All Urban Consumers (Current)-Consists of all urban households in Metropolitan Statistical Areas (MSAs) and in urban places of 2,500 inhabitants or more. Nonfarm consumers living in rural areas within MSAs are included, but the index excludes rural nonmetropolitan consumers and the military and the institutional population.
Urban Wage Earners and Clerical Workers (Current)-Consists of consumer units with clerical workers, sales workers, protective and other service workers, laborers, or construction workers. More than one-half of the consumer units income has to be earned from these occupations, and at least one of the members must be employed for 37 weeks or more in an eligible occupation.
All Urban Consumers (Chained)-The urban consumer population is deemed by many as a better representative measure of the general public because 90% of the country's population lives in urban areas. Using chained CPI means the rate at which Social Security benefits tick up would be slower, because it reflects substitutions consumers would make in response to rising prices of certain items. Therein lies the "chained" part of the name. The metric utilizes a basket of goods and services that are measured changes from month to month; much like a daisy chain. If the cost of a certain form of transportation goes up, for example, people might switch to another kind. This kind of "substitution" is part of what is factored into chained CPI.
Average Price Data- Calculated for specific items such as, household fuel, motor fuel, and food items from prices collected for the Consumer Price Index (CPI).  Average prices are best used to measure the price level in a particular month, not to measure price change over time.

It Is Clear How The Adjustment Is Applied-The CPI adjustment can applied to a lease payment monthly, quarterly, or annually, but be clear about what period of CPI is used. It is best that landlord and tenant agree the CPI is for the previous 12 months and applied to the last rent payment.
It Is Clear Whether The CPI Is Adjusted For Seasonal Changes-The CPI can be adjusted for changing climatic conditions, production cycles, model changeovers, holidays, and holiday sales which can cause variation in prices. For example, oranges can be purchased year-round, but prices are significantly higher in the summer months when the major sources of supply are between harvests.
It Is Clear Whether The CPI Is National or Local-The CPI publishes unadjusted price indexes at the national, metropolitan area, and regional levels. So you could drill down and calculate your CPI based on your city's MSA. This would be more meaningful if your economy is an outlier, such as Houston, Detroit, or New Orleans.
How Is The CPI Calculated
In calculating the CPI, the urban portion of the United States is divided into 38 geographic areas called index areas, and the set of all goods and services purchased by consumers is divided into 211 categories called item strata. This results in 8,018 (38 × 211) combinations.
The CPI is calculated in two stages. The first stage is the calculation of basic indexes, which show the average price change of the items within each of the 8,018 CPI item-area combinations. At the second stage, aggregate indexes are produced by averaging across subsets of the 8,018 CPI item–area combinations.
Percent changes for periods other than 1 year often are expressed as annualized percentages. Annualized percent changes indicate what the change would be if the CPI continued to change at the same rate each month over a 12-month period. These are calculated using the standard formula for compound growth: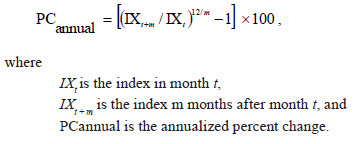 What Is Included In The CPI
The CPI represents all goods and services purchased for consumption by the reference population with all expenditure items divided into more than 200 categories, arranged into eight major groups. Major groups and examples of categories in each are as follows:
FOOD AND BEVERAGES (breakfast cereal, milk, coffee, chicken, wine, full service meals, snacks)
HOUSING (rent of primary residence, owners' equivalent rent, fuel oil, bedroom furniture)
APPAREL (men's shirts and sweaters, women's dresses, jewelry)
TRANSPORTATION (new vehicles, airline fares, gasoline, motor vehicle insurance)
MEDICAL CARE (prescription drugs and medical supplies, physicians' services, eyeglasses and eye care, hospital services)
RECREATION (televisions, toys, pets and pet products, sports equipment, admissions);
EDUCATION AND COMMUNICATION (college tuition, postage, telephone services, computer software and accessories);
OTHER GOODS AND SERVICES (tobacco and smoking products, haircuts and other personal services, funeral expenses).
What Does Yesterday's Release Of The CPI Tell Us
The Bureau of Labor Statistics, under the Department of Labor, released the latest Consumer Price Index numbers yesterday, using the All Urban Consumers Index which increased 0.2 percent  in August, but this was for only one month and it was not seasonally adjusted. The seasonally adjusted number increased 0.3 percent, the largest increase in 6 months, due to increases for shelter and medical care.
Some August prices increased while others decreased, which is why the CPI can be misleading. The indexes increased for motor vehicle insurance, apparel, communication, and tobacco; however, the indexes decreased for used cars and trucks, household furnishings and operations, recreation, and airline fares.
These numbers are only for the month of August, and leases should use the annual number. The all items index rose 1.1 percent for the 12 months ending August. The index for all items less food and energy rose 2.3 percent for the 12 months ending August. The food index was unchanged over the last year while the energy index declined 9.2 percent.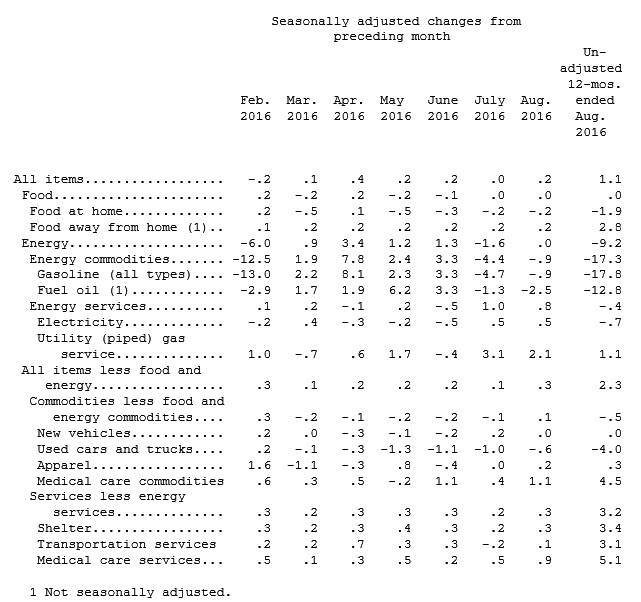 How Much Difference Can 1 Percent Make
Inflation is not what it used to be. In the 1980's the CPI approached 20% and the greatest economist alive said it was going to 25%. It went to 2%. Our economy today is driven by a different wage/price spiral and low inflation helps borrowers and hurts landlords and savers. Building in a CPI adjustment can still make a difference in a long term lease, as shown in the table below which compares a 1 percent CPI to a 2 percent CPI adjustment over a 25 year time frame. A 1 percent incremental rate increase annually results in $378,000 additional income over the 25 year span, and assuming a 10 percent Capitalization Rate, increases the market value of the property $338,000, or 33%.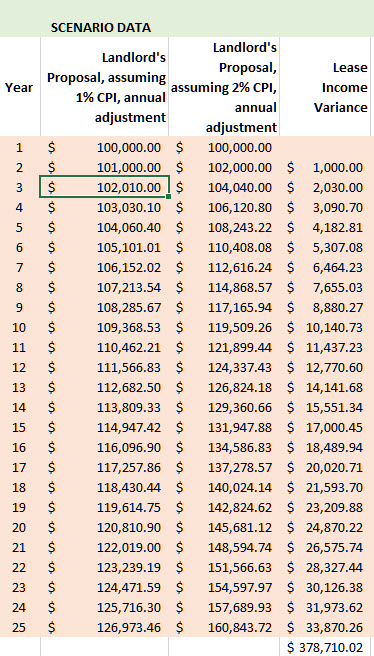 Summary
In leasing any type of property, whether you are the landlord or the tenant, make sure your lease is clear about what the rent is, and what inflation adjustments apply to the rent. Any lease document can be revised, even though some parties say they use a standard lease. There is no such thing. A lease is an agreement between two parties, and you should revise it to include language that works for you. As always, consult an expert.
---
Free Lease Consultation: If you have questions about a lease document, Louisiana Commercial Realty offers a free lease review, which includes an analysis of nearby rental market prices.

Katrina, Harvey and Irma Increase Flood Insurance Awareness
Normally when people ask if an area floods they are talking about heavy rains causing water to pool in the streets until the city pumps can suck the water down the drains and into the Mississippi River, but since Hurricane Katrina caused the levees to fail and flood the city with water from Lake Pontchartrain, and Harvey soaked Houston with 50 inches for 4 days, and Irma storm-surged from Miami to Tampa, flood insurance has become more than a luxury. Forget about global warming and let's study the foundation of flood insurance called the FEMA flood map; this article discusses everything you need to know, but were afraid to ask, including step-by-step guidance on how to read a flood map and create your own for any location.
Protecting residents from the financial loss due to flooding, no matter whether it is from heavy rains or levee breaches, dates back to 1968 when Congress created the National Flood Insurance Program, giving the responsibility to the Federal Emergency Management Agency (FEMA) for producing Flood Insurance Rate Maps that show areas subject to flooding based on historic, meteorological, hydrologic, and hydraulic data.
What's In a Flood Map?
The Flood Map provides information that allows you to identify not only Special Flood Hazard Areas but the Base Flood Elevation at a specific site, as well as areas of undeveloped coastal barriers where flood insurance is not available.
Flood Maps provide a wealth of information, including:
Common physical features, such as major highways, secondary roads, lakes, railroads, streams, and other waterways.
Special Flood Hazard Areas.
Base Flood Elevation.
Flood Insurance Risk Zones.
Areas subject to inundation by the 500-year flood.
100 Year Flood Zone Is Really a 26 % Chance
A 100-year flood is not a flood that occurs every 100 years, but one that has a 26 percent chance of occurring during a 30-year period, the length of many mortgages. The 100-year flood is a regulatory standard used by Federal agencies and most states, to administer floodplain management programs, and is used by the National Flood Insurance Program (NFIP) as the basis for insurance requirements nationwide. Special Flood Hazard Areas (SFHA) are those areas having at least a 1 percent chance of flooding during any one year. Flood Maps are easy to get and are found online at FEMA's Map Service Center,  http://www.msc.fema.gov.
How to Read a Flood Map
Step 1:  Finding the Parish/County.
To discover the flood risk in your vicinity and use the Interactive Web Mapping Portal, first start with the general area such as the target property's parish or county. For example, in New Orleans, choose a Parish from the list below by clicking the a link:
Jefferson Parish, Orleans Parish, Plaquemines Parish, St. Bernard Parish, St. Charles Parish
Step 2: Finding the Specific Location of the Property.
Let's say we want flood zoning information on the Mercedes Benz Superdome in New Orleans, so we click on Orleans Parish, and when the map opens up, type in the target address in the box at the top left. The address for our target property, the Superdome, is 1500 Sugar Bowl Dr, New Orleans, LA 70112.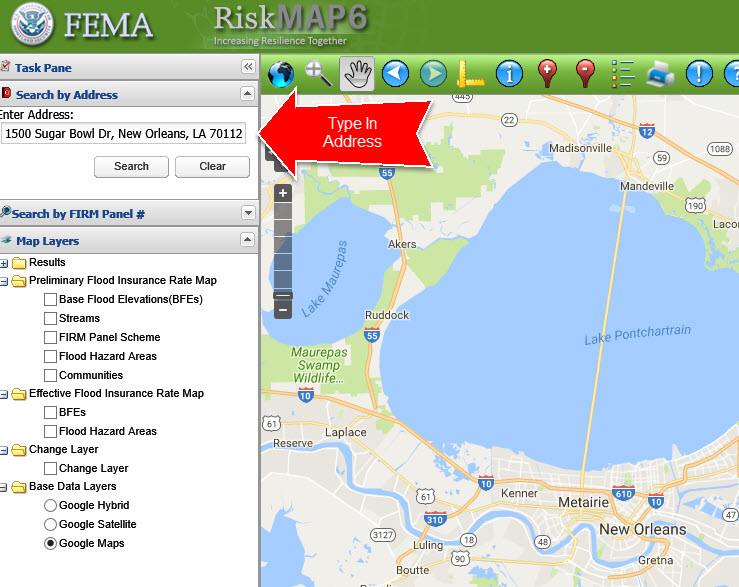 Step 3: Check Interactive Map Choices
Since the map is interactive, you can select a variety of options including satellite view, preliminary or effective map and panel or address view. Uncheck any pre-checked boxes in the panel on the left, and check Address Search Result, Flood Hazard Areas  and select the radio button Google Hybrid as shown below:
Step 4: Identify the Flood Insurance Risk Zone and Base Flood Elevation.
Click the Identify icon at the top of the screen. It looks like a white (i) in a blue circle. If you hover over it, the function will pop up.
Then click on your target site to generate a pop-up box showing the Base Flood Elevation, Flood Zone, Panel Number.
The box details the flood map panel number, the Special Flood Hazard Area (SFHA) chance of increase or decrease, the Preliminary and Effective Flood Hazard Area (AE) and the Effective Base Flood Elevation (2 Feet).
Explanation of Flood Zone Designations
Zone A: This zone has a low risk of erosion and can experience breaking waves less than 1.5 feet. No base flood elevations are calculated.
Coastal Zone A: This zone is subject to erosion, fast and strong water movement, and wave heights of 1.5 to 3 feet during storm events. Base flood elevations are calculated for these zones and displayed on flood maps. Communities have the option of adopting more stringent building codes (up to V Zone standards) in this zone, which would give them points in the Community Rating System. This zone is relatively new, so it may not be applicable to your community's current flood maps. On the new maps, the landward edge of the zone is marked by the LiMWA line (Line of Moderate Wave Action). An elevation certificate is required to accurately calculate insurance rates in this zone.
High Risk (Special Flood Hazard Area)
These zones make up the Special Flood Hazard Area and are in the 100-year-flood zone. They have at least a 1% chance of flooding each year and at least a 26% chance of flooding over the lifetime of a 30-year mortgage. Structures located in these zones with a federally-backed mortgage are required to purchase flood insurance. On a flood map these zones are referred to as the letters below or, collectively, as the 1% annual chance or 100-year-flood zone.
Zone AE or Zone A1-30: This zone has a low risk of erosion and can experience breaking waves less than 1.5 feet. Base flood elevations are calculated and displayed on flood maps. AE zones are present on newer maps; zones A1-30 are present on older maps. An elevation certificate is required to accurately calculate insurance rates in these zones.
Zones AH, AO, AR, A99: See FEMA's Map Service Center definitions. The flood insurance rate zone that corresponds to areas of the 100-year floodplains that will be protected by a Federal flood protection system where construction has reached specified statutory milestones. No Base Flood Elevations or depths are shown within this zone. Mandatory flood insurance purchase requirements apply.
Zone V: This zone faces an additional hazard from erosion, fast and strong water movement, and waves that may be 3 feet or greater during storm events.
Zone VE or V1-V30: These zones face an additional hazard from storm waves, and can experience waves greater than 3 feet. Base flood elevations are calculated for these zones and displayed on flood maps. VE zones are present on newer maps; zones V1-30 are present on older maps. An elevation certificate is required to accurately calculate insurance rates in these zones.
Moderate Risk
Zone X (shaded) and Zone B: The area between the extent of the 100-year-flood (1% annual chance flood) and the 500-year-flood (0.2% annual chance flood). There is no base flood elevation calculated for these zones, so elevation certificates are not necessary. Flood insurance could be much cheaper in these zones because of the lower risk. These areas are not subject to the mandatory purchase of flood insurance.
Minimal Risk
Zone X (unshaded) and Zone C: The area outside of the extent of the 500-year-flood with minimal flood risk. If a structure is located in this zone, however, it does not mean that it is out of harm's way. The risk determination is based on probability, and the probability of a flood reaching this area is low, but it is not impossible. There is no base flood elevation calculated for these zones, so elevation certificates are not necessary. Flood insurance could be as much as 50% cheaper in these zones because of the lower risk. These areas are not subject to the mandatory purchase of flood insurance.
Undetermined Risk
Zone D: Areas classified as Zone D have not had a flood hazard analysis performed. These are often areas with very low population counts.
How To Make Your Own FIRMette, The FEMA Flood Map
If you need the actual Flood Map, one is available at the FEMA Flood Map Service Center, then enter the target property's address.

and click the View Map icon as shown below.
 The actual FEMA flood map is not in color as shown below. Click Make A Firmette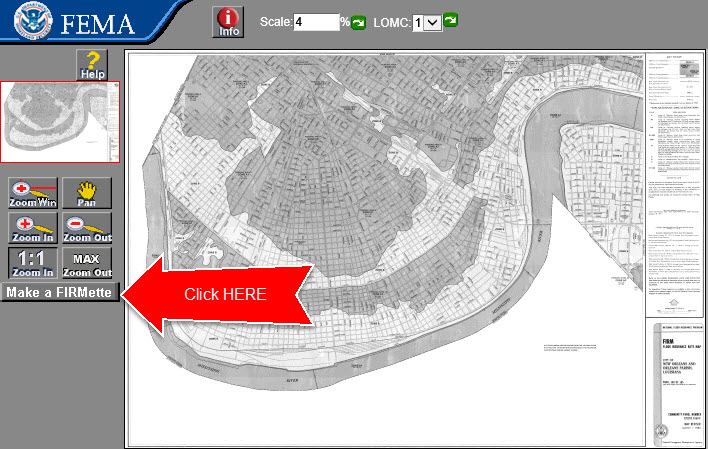 Drag the green viewer box over your target area, and click Create FIRMette Adobe PDF.
The final product is a FEMA flood map. This map is panel number 225 203 0160E, dated March 1, 1984, showing the Superdome is in Zone A1 but close to Zone B. Zone A1 is on the older maps and is the same as Zone AE on the newer maps.

It's a Government Product, So Two Maps Are Better Than One
FEMA updates flood maps on a community-by-community basis so all maps are not exactly the same, differing in both format and content. The two basic paper formats used for flood maps are a Flat Flood Map and a Z-Fold Flood Map, but every flood map has several basic elements:
Index
Panel
Title box
Legend
Standard symbols
Since the geographic coverage of a Flood Map may be quite large, FEMA divides an area into sections called panels and includes an index to indicate what areas are shown on each map. A Flat Flood Map consists of one or more 11"x17" pages and a cover sheet that includes an index and a legend. A Z-Fold Flood Map is a one or more panels that is folded like a highway map and have a legend and index. While panels that make up a geographic area are considered one flood map and can include all of these jurisdictions: parishes, towns, townships, cities, incorporated areas and unincorporated areas have separate flood maps.
In addition to the two basic formats, flood maps also have several basic elements:
Title Block: Found on each Panel (or page), the title box contains the community name, the panel number (page number), date, and other information necessary to identify the flood map panel.
The Legend: Found on Z-fold flood maps, the legend provides information for identifying the risk zones and/or floodway on the flood map.
The Body: The body of a flood map displays the map contents. On an index, the body will usually only display primary features like major roads, corporate limits and other general landmarks that help to identify location. On a panel, the body will show more detail than what is shown on the index, including secondary roads, bridges, and flood hazard information.
Community Name: The title block displays name of the mapped community, the town, city, parish, and state. When the mapped community is a parish, the words "Unincorporated Areas" often appear below the parish name. This indicates that the incorporated areas in the parish area not covered by the flood map. When the flood map covers the entire geographic area of the parish, the words "Incorporated Areas" appear after the parish name.
Community Number: The Community Number is a six-digit identification number assigned to the mapped community. This number is also referred to as the community identification number (CID). You need to use the community identification number when you ask FEMA staff questions about a Flat Flood Map or a Z-fold Flood Map for an individual community and when your order a flood map from the Map Service Center.
Corporate Limit or Parish Line: The Corporate Limit or Parish Line identifies the jurisdictional limits of the community's regulatory authority over land development and building construction. In some states, an incorporated community may exercise extraterritorial jurisdiction over land development and building construction in areas beyond its corporate limits. Where appropriate, these limits are shown and labeled on the index.
Panel Limit Line: This line reveals the extent of the area covered by each panel shown on the index.
Panel-not-Printed Notes: These notes identify the panels included in the flood map layout that are not printed and explain why they are not printed. For instance, when a panel covers an area of the community that falls entirely in one flood insurance risk zone, that panel may not be printed, and an explanatory note is added to the index. If all panels are printed this annotation is omitted.
Effective or Revised Date: This is the date the new or revised flood map becomes effective for flood insurance and floodplain management purposes. Partial revisions are common and the inside of the index will show the suffix of each panel to determine what has been revised. New parishwide indexes will have effective dates printed on each panel.
List of Printed Panels: This list identifies those panels that are printed, but not necessarily revised. Partial revisions are common and the inside of the index will show the suffix of each panel to determine what has been revised. New parishwide indexes will have effective dates printed on each panel.
Map Repository Address: This is the address of the official community office where reference copies of the flood map and Flood Insurance Study report are stored and made available.
In addition to these items, there are 14 more elements that may be found on flood map panels:
Area Not Included Label
Base Flood Elevation
Coastal Barrier Area
Elevation Reference Marks
Floodplain Boundary
Hazard Area Designation
Map Scale
Panel Number
River Mile Marker
Stream Line
Zone Designation
Zone Division Line
Flood Insurance Risk Zone Label
---
For more information on flood maps, read our article Flood Zoning For Dummies, and choose from over 150 articles on commercial real estate.
---
Glossary Terms
1-percent annual chance floodplain
This is the boundary of the flood that has a 1-percent chance of being equaled or exceeded in any given year. Also known as the 100-year floodplain.
1-percent annual chance water-surface elevation
The height, in relation to the National Geodetic Vertical Datum of 1929 (or other datum, where specified), of the flood having a 1-percent chance of being equaled or exceeded in any given flood year (also known as the 100-year flood or the base flood).
100-year flood
The flood having a 1-percent chance of being equaled or exceeded in any given year; also known as the base flood. The 1-percent annual chance flood, which is the standard used by most Federal and state agencies, is used by the National Flood Insurance Program (NFIP) as the standard for floodplain management and to determine the need for flood insurance. A structure located within a special flood hazard area shown on an NFIP map has a 26 percent chance of suffering flood damage during the term of a 30-year mortgage.
100-year floodplain
This is the boundary of the flood that has a 1-percent chance of being equaled or exceeded in any given year. Officially termed the 1-percent annual chance floodplain.
500-year floodplain
This is the boundary of the flood that has a 0.2-percent chance of being equaled or exceeded in any given year. Officially termed the 0.2-percent annual chance floodplain.
Backwater
The effect of downstream flow on the water-surface profile.
Base Flood Elevation (BFE)
The height of the base flood, usually in feet, in relation to the National Geodetic Vertical Datum of 1929, the North American Vertical Datum of 1988, or other datum referenced in the Flood Insurance Study report, or depth of the base flood, usually in feet, above the ground surface.
Channel Bank Stations
Points that identify the extreme limits of the natural stream channel. These stations are typically assigned at locations along a cross section where a relatively flat area exists outside of the channel.
Confluence
A location where two streams or rivers meet.
Contour
A line on a map joining points of equal altitude.
Critical Depth
The depth of flow at which, for a given discharge at a given location, the total energy is the minimum value possible for flow to occur.
Datum
A fixed starting point of a scale.
Federal Emergency Management Agency (FEMA)
An independent agency of the Federal government, founded in 1979, which reports directly to the President. FEMA is responsible for identifying and mitigating natural and man-made hazards. The agency's mission is: to reduce loss of life and property and protect our nation's critical infrastructure from all types of hazards through a comprehensive, risk- based, emergency management program of mitigation, preparedness, response and recovery.
Flood
A general and temporary condition of partial or complete inundation of normally dry land areas. For flood insurance claim purposes, two or more structures must be inundated before flood damage will be covered.
Flood Boundary Floodway Map (FBFM)
A pre-Map Initiatives floodplain management map that delineates the 100-year (1% annual chance) and 500-year (0.2% annual chance) floodplains, floodway, and cross sections.
 Flood Insurance Rate Map (FIRM)
A map on which the 100-year (1% annual chance) and 500-year (0.2% annual chance) floodplains, Base Flood Elevations, and risk premium zones (and floodway information on Map Initiatives FIRMs) are delineated to enable insurance agents to issue accurate flood insurance policies to homeowners in communities participating in the National Flood Insurance Program.
Flood Insurance Study (FIS)
An examination, evaluation, and determination of flood hazards and, if appropriate corresponding water-surface elevations. The resulting reports are used to develop Flood Insurance Rate Maps. Also know as a flood elevation study.
Floodplain Management
The operation of a program of corrective and preventative measures for mitigating flood damage, including, but not limited to, emergency preparedness plans, flood-control works, and floodplain management regulations. Floodway Channel of a stream plus any adjacent floodplain areas that must be kept free of encroachment so that the 100-year flood discharge can be conveyed without increasing the elevation of the 100-year flood by more than a specified amount (1 foot in most states).
Special Flood Hazard Area (SFHA)
Area inundated by the base (1-percent annual chance) flood, identified on the Flood Insurance Rate Map as Zones A, AE, AH, AO, AR, V, VE, or A99.
Elevation
The height, in relation to the National Geodetic Vertical Datum of 1929 (or other datum, where specified) of floods of various magnitudes and frequencies in the identified floodplains of coastal or riverine areas.
---
Additional information can be found at:
Federal Emergency Management
Agency Map Service Center
P.O. Box 1038
Jessup, Maryland 20794-1038
Telephone: (800) 358-9616
Fax: (800) 358-9620
http://www.msc.fema.gov
In addition to the loss of life, jobs, savings, and disrupted families, the victims of Hurricane Harvey will have to deal with the loss of their property and the numbers are staggering. Satellite maps from Reuters show 30,000 properties flooded valued at 23 billion, with 26 percent land only but 74 percent are homes and commercial properties including shopping centers, office buildings and warehouses. The University of Colorado research shows flooding in Harris County over 231 square miles and 51 square miles in Galveston County.
Analysis of Affected Overall Commercial Property
There has not been any flooding in Houston in 16 years, and homeowners without mortgages or homeowners outside the 100 year flood zone do not have to carry flood insurance. Estimates of damage are starting to come in and, combining residential and commercial property damage, the total could exceed $100 billion. Previous flooding disasters according to the National Oceanic and Atmospheric Administration estimate Hurricane Katrina in 2005 caused $160 billion in damage, Hurricane Sandy in 2012 caused $70 billion, and Hurricane Ike in 2008 caused $34 billion.
Houston is the 6th largest Metropolitan Statistical Area in the United States and has 12,000 commercial properties in 433 million square feet inside the flood plain, including:
167,281 apartment units,
60 million SF of office space
73 million SF of retail space
11 hospital buildings, including a 1.1 million square foot building at the Texas Medical Center
FEMA estimates 225 million square feet of building area is Within the 500 year flood plain
 Analysis of Affected Apartment Market
Southwest Houston is where most of the commercial property is flooded, with 30 percent of the 66,000 apartment units impacted. Within Southwest Houston, the Braeburn, Greater Fondren and Sharpstown neighborhoods have the highest number of units that are in the 100-year floodplain. Each of these neighborhoods borders Brays Bayou which snakes through southwest Houston and has overflowed as a result of the 50 inches of rain. Of the $55 billion at risk, apartment assets account for $16 billion, including $6.8 billion in the 100-year floodplain. There are 3 apartment properties in this area that are valued at $100 million each.
An additional 25 million square feet of commercial space is under construction in Houston, including more than 12,000 apartment units and approximately 25 percent or 5 million square feet is within the flood plain, with 1,170 units alone under construction near the Medical Center.
Analysis of Affected Office Market
The most impacted office submarket is Greenspoint, with 3.5 million square feet within the flood plain, and already experiencing high vacancy rates since 2015 when ExxonMobil left the area.
Army Corps of Engineers Releasing More Water, Possibly Damaging 2.5 Million Square Feet of Office Property
In addition to the flood water, more water is coming from a nearby reservoir, released through Buffalo Bayou by The Army Corps of Engineers  to prevent the earthen dams supporting these reservoirs from failing. The Bayou runs west to east and crosses through Woodlake, River Oaks, the Energy Corridor, Memorial Park, Briarforest, and Uptown Park. There are approximately 117 buildings totaling 17 million square feet within 1,500 feet of the bayou, and more than 2.5 million square feet of mostly office space in the Energy corridor and Post Oak neighborhoods is at high risk since it is located within the 100-year floodplain.
---
For more information on Flood Zones, read our article Everything You Need To Know About Reading a Flood Map
For our article and spreadsheet on flood repair costs, read  What To Do the First Day Back In Your Flooded Home
---
Sources: FEMA, University of Colorado, CoStar, NOAA, Dartmouth, Reuters