FEMA is on the ground now visiting damage by Hurricane Harvey and processing claims with aid per house up to $33,000 but each home FEMA claim can be different. For homeowners, it can feel like a deer caught in headlights, and you just don't know what to do. Mold sets in within 24 hours so you need to take action. This article outlines what victims of flooded property need to do right now, and what it will cost, as told by a Katrina survivor.
Flooded? What To Do Right Now
When your home gets flooded, it can be overwhelming. There is so much devastation that you don't know where to begin. The first thing to do is to call all your friends and ask for help, since this is no time go it alone. You will be amazed at how word can get around and friends will come to the rescue. Here is a list of what you need to ask people to bring you: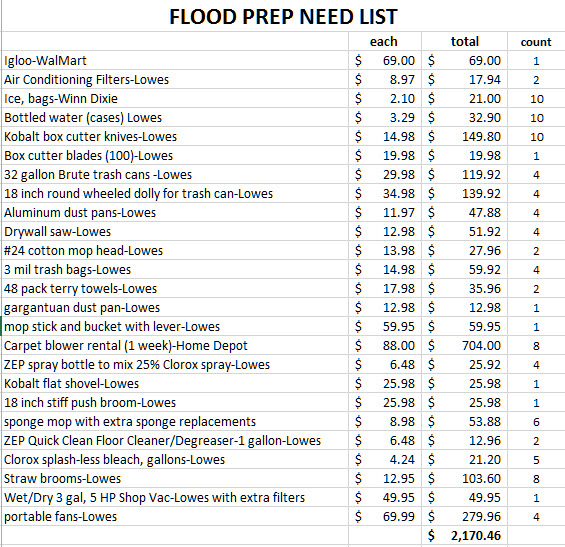 Once you have your supplies, start with the highest priority tasks. Have your insurance adjuster examine your property, take lots of photographs, and file a claim with FEMA as soon as possible. You might have a 4 bedroom home but if only 2 people live there, you will only receive FEMA aid for a 2 person house. Save financial records, photographs, appliances. Everything wet that is salvageable must go outside to dry, all else thrown away.
First Things First
Pull up all wet wood flooring or carpet and discard. Mold can set in within 24-48 hours.
Cover salvageable furniture with sheets.
All wet trim and sheetrock has to be pulled out and discarded into 3 mil black trash bags in Brute cans on wheeled dollies. One person should have the job of taking bags of wet sheetrock outside and refilling trash cans with bags. Break up the sheetrock into small enough pieces so they fit into the trash bags. Get a ruler and mark a line on every wall at least 24 inches from the floor, or high enough to mark where the wet sheetrock stops. Snap a chalk line or use a level to draw a line. Use a box cutter knife or drywall jab to cut out the wet sheetrock. Pull out trim nails with pliers and remove drywall screws.
Broom out large chunks of debris and insulation.
Wet/Vac out water and remaining debris from studs.
Once exposed, studs are clean and free of debris and insulation, spray with bleach 25% mixture, then place institutional carpet blowers near exposed walls to dry out studs. Let fans and blowers run 24/7. Studs should be dry in 2-3 days.
Pull out all wet kitchen and bath base cabinets and store outside to dry, if possible, remove cabinet doors for ventilation.
Soak up standing water with with cotton head mop and clean floors often with sponge mop, so as not to track sheetrock dust to other rooms. Dust does not mop up by itself, so use ZEP Floor Cleaner.
---
Resources:
FEMA:https://www.fema.gov/apply-assistance
MOLD: https://www.fema.gov/pdf/rebuild/recover/fema_mold_brochure_english.pdf
---
For more information on flood zone designations, read our recent article: Everything You Need To Know About Reading A Flood Insurance Map
---