FEMA is on the ground now visiting damage by Hurricane Harvey and processing claims with aid per house up to $33,000 but each home FEMA claim can be different. For homeowners, it can feel like a deer caught in headlights, and you just don't know what to do. Mold sets in within 24 hours so you need to take action. This article outlines what victims of flooded property need to do right now, and what it will cost, as told by a Katrina survivor.
Flooded? What To Do Right Now
When your home gets flooded, it can be overwhelming. There is so much devastation that you don't know where to begin. The first thing to do is to call all your friends and ask for help, since this is no time go it alone. You will be amazed at how word can get around and friends will come to the rescue. Here is a list of what you need to ask people to bring you: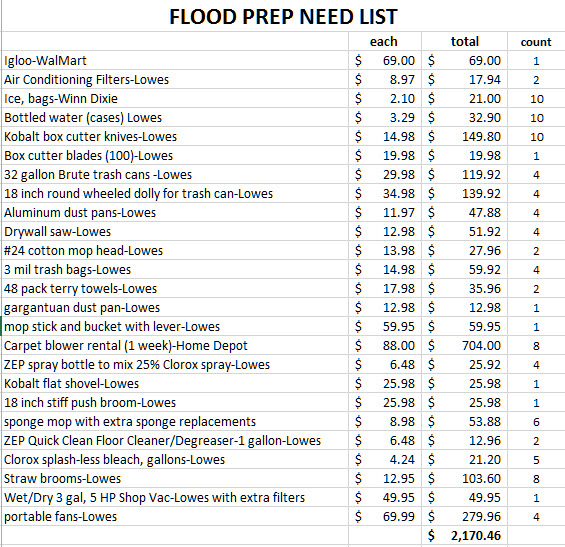 Once you have your supplies, start with the highest priority tasks. Have your insurance adjuster examine your property, take lots of photographs, and file a claim with FEMA as soon as possible. You might have a 4 bedroom home but if only 2 people live there, you will only receive FEMA aid for a 2 person house. Save financial records, photographs, appliances. Everything wet that is salvageable must go outside to dry, all else thrown away.
First Things First
Pull up all wet wood flooring or carpet and discard. Mold can set in within 24-48 hours.
Cover salvageable furniture with sheets.
All wet trim and sheetrock has to be pulled out and discarded into 3 mil black trash bags in Brute cans on wheeled dollies. One person should have the job of taking bags of wet sheetrock outside and refilling trash cans with bags. Break up the sheetrock into small enough pieces so they fit into the trash bags. Get a ruler and mark a line on every wall at least 24 inches from the floor, or high enough to mark where the wet sheetrock stops. Snap a chalk line or use a level to draw a line. Use a box cutter knife or drywall jab to cut out the wet sheetrock. Pull out trim nails with pliers and remove drywall screws.
Broom out large chunks of debris and insulation.
Wet/Vac out water and remaining debris from studs.
Once exposed, studs are clean and free of debris and insulation, spray with bleach 25% mixture, then place institutional carpet blowers near exposed walls to dry out studs. Let fans and blowers run 24/7. Studs should be dry in 2-3 days.
Pull out all wet kitchen and bath base cabinets and store outside to dry, if possible, remove cabinet doors for ventilation.
Soak up standing water with with cotton head mop and clean floors often with sponge mop, so as not to track sheetrock dust to other rooms. Dust does not mop up by itself, so use ZEP Floor Cleaner.
---
Resources:
FEMA:https://www.fema.gov/apply-assistance
MOLD: https://www.fema.gov/pdf/rebuild/recover/fema_mold_brochure_english.pdf
---
For more information on flood zone designations, read our recent article: Everything You Need To Know About Reading A Flood Insurance Map
---
Whether you rent office space in Class A towers or a warehouse to store inventory or retail space for your coffee shop, your lease with the landlord probably has terms that are not good for you but that you agreed to anyway. Just make sure your lease renewal doesn't have the three most common mistakes. Even small mistakes can be very costly unless your lease language is clear on every detail.
Most Leases Include Price Increases Tied To The Consumer Price Index
The history of linking rent payments to inflation became strategic in the days of 1970's high inflation, when the OPEC oil embargo caused oil prices to skyrocket. When higher oil prices combined with the wage-price spiral, the result was an overnight jump in inflation from 3.2% in 1972 to 11% in 1974. This caused landlords to realize that rental income did not retain its purchasing power, which is the economic theory that a dollar in the future should buy the same amount of goods as it does today. Today it is common practice for leases to include consumer price index (CPI) language to protect landlords, but the problem is that there is more than one Consumer Price Index and there are different ways to calculate each. Even sophisticated tenants and landlords depend on experts to advise them in lease negotiations.
Make Your Lease Clear How What CPI Is Used To Adjust Rent
Make Your Lease Clear How The CPI Is Calculated
Here is lease language for a medical property that makes the CPI data source very clear:
Consumer Price Index: It is further understood and agreed by and between Lessor and Lessee that, commencing with the first day of the second year of lease, the monthly rental as set forth above will be adjusted upwards at the beginning of the second lease year, and every year thereafter until expiration or termination of the lease using the all urban consumers (CPl-U) United States City Average, All Items, (1967=100)published by the Bureau of Labor Statistics, United States Department of Labor (referred to as "Consumer Price Index").
Compounded or Added Together?
Always compound if you are the landlord and never compound if you are the tenant. When adjusting for the CPI, it makes a difference if you add the inflation rate for each year rather than multiply the rate by the previous year. Assume a 5 year lease renewal where the CPI was 3% each year for the previous 5 years. Some landlords multiply 5 years times 3% to get 15% for the increase. For a large property with rent income of $100,000 annually, the adjusted rent would be $115,000; however, if the lease is written so the CPI is compounded, meaning each new year is applied toward the previous year's CPI, the result is rent of $115,927 in year 5. Your lease renewal should spell out how the CPI is calculated.
How CPI Adjustments Affect Property Value
Our economy today is driven by a different wage/price spiral which causes low inflation. This helps borrowers but hurts landlords and savers. One strategy utilized is to build in a fixed rate adjustment in addition to a CPI adjustment because the challenge for landlords is that the CPI since 2012 has averaged 1.3%. The current CPI doesn't keep up with 3% average annual medical care increases.
One strategy that benefits landlords is to include lease language stating the rent adjusts based on the CPI or a fixed rate, whichever is higher. The 30 year table below shows how, during an extended period of low inflation, this strategy can dramatically increase the market value. This lease would include language with adjustments based on the CPI, which we assume in this scenario will continue at the average 1.3% annual rate, compared to a fixed rate of 3%. The result, assuming current rent income of $100,000, would be to increase rent by $95,399 in year 30, which at an 8% cap rate adds $1,192,486 more market value to the property.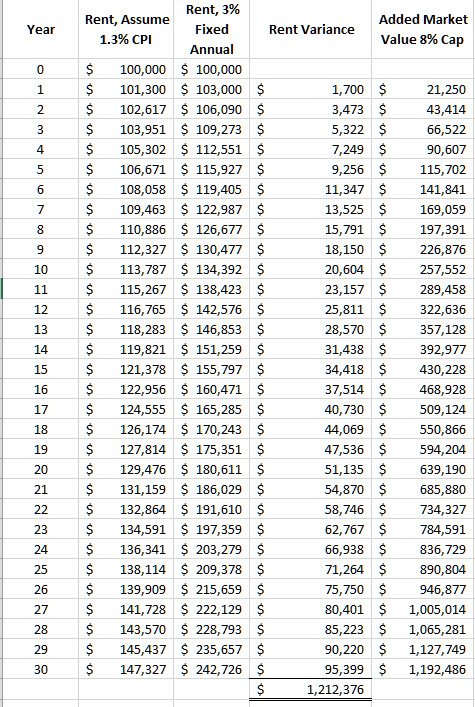 Summary
In conclusion, make sure your lease language details how your rent is adjusted. You can design your table data at the Bureau of Labor website and, if you need help, their phone number is shown on the data release. If you call the number on the press release, the analyst who produced the CPI report will answer any questions. If your property is in outlier data cities such as Detroit, Houston or New Orleans, you can even produce a local Consumer Price Index. Remember to make sure your lease is clear about what CPI is used, how it is calculated and whether you compound your rate, which is why many tenants and landlords hire an expert to advise them. Remember, mistakes can be costly.
Louisiana Commercial Realty and its sister company, Mississippi Commercial Realty, were hired recently to market the only Class A medical office center in Hattiesburg, Mississippi, known as One Lincoln Parkway Medical Center. The ADA compliant medical office building is 85,000 square feet on three floors and is home to the major health providers in the Hattiesburg area. The building was constructed in 2005 and offers wrap-around parking for 200 cars, and portico access on all four sides for easy access by patients. Current tenants include Forrest General Hospital and Hattiesburg Clinic, the two major health care providers in the 14 county market surrounding Hattiesburg.
Mississippi Commercial Realty was hired to market the property after London and Stetelman Realty was unsuccessful for over a year in finding tenants for four vacant office spaces in the building. Mississippi Commercial Realty President Robert Hand explains,
" Many property owners come to us for two reasons. One is that we are a dominant commercial real company in both Louisiana and Mississippi since we offer the comprehensive services of not only Mississippi Commercial Realty but also Louisiana Commercial Realty. What that means for our clients is that they get two firms working for them for the price of one. The second reason people hire us, and it is sometimes after other commercial real estate firms have been unsuccessful with their property, is that we put more thought into a client's property and tailor-make a solution to solve their problem. For example, with One Lincoln Parkway Medical Center, we researched the market to see what medical services are needed in the Hattiesburg area and pursued those as our target markets. Rather than wait for them to call us, we identified tenants that Hattiesburg needs and we went after them. We are currently working to bring in a dialysis clinic for people with kidney problems."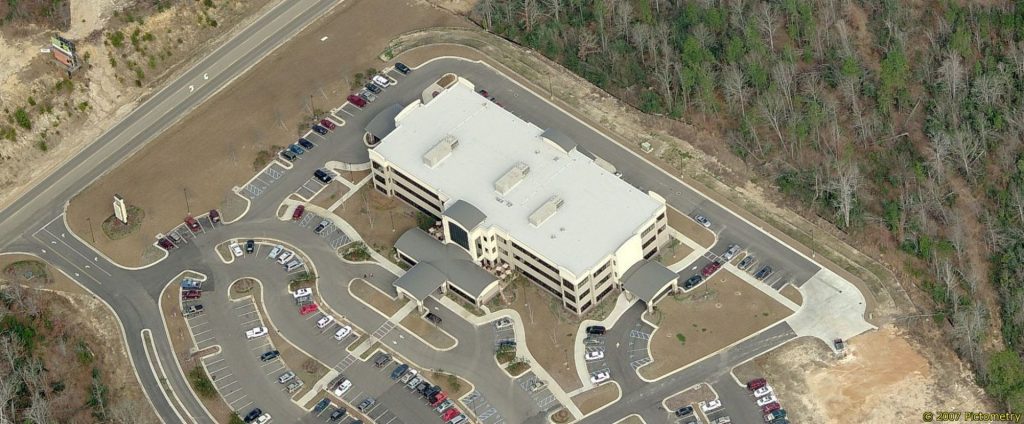 "The days of putting a sign out front of a property are gone, and property owners need to be smart about the image their property has in the community"  says Hand, " Every property has a brand, whether the owner realizes it or not. By being proactive and taking control of your brand, property owners can create demand that would not exist otherwise."
---
For more information about the Hattiesburg, Mississippi market, click here.
Louisiana Commercial Realty has been ranked among the top 100 commercial-only real estate brokers in the Gulf South area, including northwest Florida, Alabama, Mississippi and Louisiana, having been inducted into the Society of Industrial and Office Realtors, which is an invitation-only international organization of the top ranked commercial real estate brokers in 630 cities and 34 countries. SIOR members are specialists in the office and industrial markets and must meet stringent requirements certifying their expertise. Of the 1.2 million licensed real estate agents in the United States, only 3,000 have the SIOR designation and, of those, only 100 are in the 4-state Gulf South area. Members of SIOR are the highest performers in the industry, and reported more than $12.5 billion in sales and leases last year. Louisiana Commercial Realty president Robert Hand explains,
"Being a member in the Society of Industrial and Office Realtors means our company is ranked among the top commercial real estate brokers in the U.S., which means our clients benefit from a dedication to excellence and a commitment to providing a higher level of service."
The SIOR organization was founded in 1939, but one year and two months later, the United States entered WW2. The urgency of the war effort required ability, integrity, and sincerity from the brokers—three qualities that we have held in high regard to this day. During the war, members were instrumental in locating existing, and immediately available, plant space that could be utilized to defend our country. Over 200 brokers from across the United States and Canada surveyed suitable facilities and reported their findings to the War Department (now the Department of Defense), playing a vital role in the business of commercial real estate to help provide the infrastructure to produce goods to make life better.
---
Click here for information on the Commercial Real Estate Index, a proprietary summary of commercial real estate conditions in the U.S., based on a survey questionnaire including: (1) recent leasing activity; (2) trends in asking rents; (3) trends in vacancy rates; (4) subleasing conditions; (5) levels of concession packages in leases; (6) development activity; (7) site acquisition activity; (8) investment pricing levels; (9) the impact of the local economy on the property market; and, (10) the effect of the national economy on the property market.