For decades prior to 2005's Hurricane Katrina, new businesses fled New Orleans in mass for greener pastures with more high-tech employees and payroll tax incentives, but after Katrina many residents launched their entrepreneurial spirit and started their own businesses, resulting in a doubling of new businesses that is 68% higher than the national average and has lasted for more than a decade. Among these entrepreneurs are high technology companies, drawn to the area with economics incentives and a culture that younger tech-savvy millennials demand in their work. One of these high tech companies, CivicSource, is the leading auctioneer of tax-distressed real estate, and has been recognized by Inc. Magazine's 500|5000 as one of "America's Fastest Growing Companies". Their work space in the 935 Gravier office tower is a model of high tech environments, with white boards, pool tables, break areas including sofas and a full kitchen, and fiber optic networks with open work areas, making it easy to be recognized as the one of the "Best Places To Work in New Orleans" for the past five years.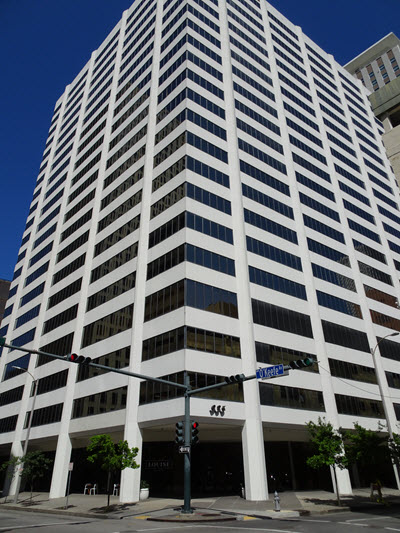 Like many start-ups, success results in outgrowing the physical office space, and while normally the entire 17th floor at the 935 Gravier Street office tower would be sufficient, CivicSource decided purchasing office building would provide more control over their growth than paying rent. After a search of the top commercial real estate brokers, CivicSource hired Louisiana Commercial Realty to market their 17th floor office space for sublease.
Ethical Standards and Conflicts of Interest
Louisiana Commercial Realty President Robert Hand explains, "Many commercial property owners come to us to help them lease or sublease their office space because our approach is vastly different from everyone else. Rather than just put up a sign and wait for someone to call, we utilize the latest technology and identify who the best person is to lease the space and we reach out to them." Many property owners are concerned with conflicts of interest in finding tenants for their property, and no longer want an agent working for them who might also show a competing listing to the same person. Hand says, "We don't accept listings that might compete with clients we have. Commercial property owners like the idea that we guarantee there are no conflicts of interest and their property will be represented with the highest ethical standards."
Louisiana Commercial Realty has vast experience in helping tenants sublease their office space, having completed negotiations recently in the sublease of 75,000 of Class A CBD space on 3 full floors on Poydras Street for the 8th largest oil company in the world.
Sublease The 17th Floor High-Tech Space
Additional information on the 17th floor sublease space can be found on the commercial database website, LACDB.
---
Want information on subleasing Class A office space in New Orleans? Check out these articles on the Louisiana Commercial website: