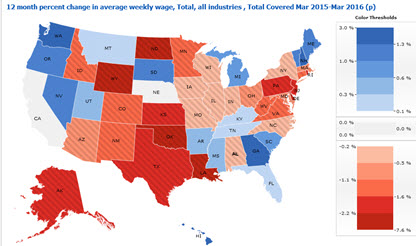 Whether you rent office space, a warehouse, or a retail store, your lease probably has language that ties rent you pay to the Consumer Price Index. The idea is meant to benefit only the landlord, because the rental income retains its purchasing power. The problem is that there is more than one Consumer Price Index and there are different ways to calculate each, so make sure your lease agreement contains language that is very specific. One example of lease language referencing the CPI is:
The rental under this lease shall be four ($4.00) dollars per square foot for the first twelve (12) months, with annual adjustments tied to the Consumer Price Index (published by the Bureau of Labor Statistics, All Urban Consumers, Current Series, Index) for the previous calendar year period.
Five Things Every Lease Should Make Clear
It Is Clear Where The CPI Is Published-If rent is tied to an index, what index is used and where can you find it? The above lease language spells out that the rent is adjusted by the Consumer Price Index, and tells the information is published by the Bureau of Labor Statistics, which is found easily online.
It Is Clear What Type of Consumer Price Index Is Used-There are 4 methods used to calculate the Consumer Price Index:

All Urban Consumers (Current)-Consists of all urban households in Metropolitan Statistical Areas (MSAs) and in urban places of 2,500 inhabitants or more. Nonfarm consumers living in rural areas within MSAs are included, but the index excludes rural nonmetropolitan consumers and the military and the institutional population.
Urban Wage Earners and Clerical Workers (Current)-Consists of consumer units with clerical workers, sales workers, protective and other service workers, laborers, or construction workers. More than one-half of the consumer units income has to be earned from these occupations, and at least one of the members must be employed for 37 weeks or more in an eligible occupation.
All Urban Consumers (Chained)-The urban consumer population is deemed by many as a better representative measure of the general public because 90% of the country's population lives in urban areas. Using chained CPI means the rate at which Social Security benefits tick up would be slower, because it reflects substitutions consumers would make in response to rising prices of certain items. Therein lies the "chained" part of the name. The metric utilizes a basket of goods and services that are measured changes from month to month; much like a daisy chain. If the cost of a certain form of transportation goes up, for example, people might switch to another kind. This kind of "substitution" is part of what is factored into chained CPI.
Average Price Data- Calculated for specific items such as, household fuel, motor fuel, and food items from prices collected for the Consumer Price Index (CPI).  Average prices are best used to measure the price level in a particular month, not to measure price change over time.

It Is Clear How The Adjustment Is Applied-The CPI adjustment can applied to a lease payment monthly, quarterly, or annually, but be clear about what period of CPI is used. It is best that landlord and tenant agree the CPI is for the previous 12 months and applied to the last rent payment.
It Is Clear Whether The CPI Is Adjusted For Seasonal Changes-The CPI can be adjusted for changing climatic conditions, production cycles, model changeovers, holidays, and holiday sales which can cause variation in prices. For example, oranges can be purchased year-round, but prices are significantly higher in the summer months when the major sources of supply are between harvests.
It Is Clear Whether The CPI Is National or Local-The CPI publishes unadjusted price indexes at the national, metropolitan area, and regional levels. So you could drill down and calculate your CPI based on your city's MSA. This would be more meaningful if your economy is an outlier, such as Houston, Detroit, or New Orleans.
How Is The CPI Calculated
In calculating the CPI, the urban portion of the United States is divided into 38 geographic areas called index areas, and the set of all goods and services purchased by consumers is divided into 211 categories called item strata. This results in 8,018 (38 × 211) combinations.
The CPI is calculated in two stages. The first stage is the calculation of basic indexes, which show the average price change of the items within each of the 8,018 CPI item-area combinations. At the second stage, aggregate indexes are produced by averaging across subsets of the 8,018 CPI item–area combinations.
Percent changes for periods other than 1 year often are expressed as annualized percentages. Annualized percent changes indicate what the change would be if the CPI continued to change at the same rate each month over a 12-month period. These are calculated using the standard formula for compound growth: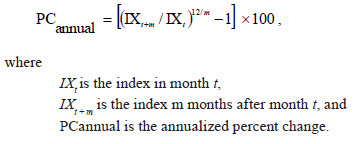 What Is Included In The CPI
The CPI represents all goods and services purchased for consumption by the reference population with all expenditure items divided into more than 200 categories, arranged into eight major groups. Major groups and examples of categories in each are as follows:
FOOD AND BEVERAGES (breakfast cereal, milk, coffee, chicken, wine, full service meals, snacks)
HOUSING (rent of primary residence, owners' equivalent rent, fuel oil, bedroom furniture)
APPAREL (men's shirts and sweaters, women's dresses, jewelry)
TRANSPORTATION (new vehicles, airline fares, gasoline, motor vehicle insurance)
MEDICAL CARE (prescription drugs and medical supplies, physicians' services, eyeglasses and eye care, hospital services)
RECREATION (televisions, toys, pets and pet products, sports equipment, admissions);
EDUCATION AND COMMUNICATION (college tuition, postage, telephone services, computer software and accessories);
OTHER GOODS AND SERVICES (tobacco and smoking products, haircuts and other personal services, funeral expenses).
What Does Yesterday's Release Of The CPI Tell Us
The Bureau of Labor Statistics, under the Department of Labor, released the latest Consumer Price Index numbers yesterday, using the All Urban Consumers Index which increased 0.2 percent  in August, but this was for only one month and it was not seasonally adjusted. The seasonally adjusted number increased 0.3 percent, the largest increase in 6 months, due to increases for shelter and medical care.
Some August prices increased while others decreased, which is why the CPI can be misleading. The indexes increased for motor vehicle insurance, apparel, communication, and tobacco; however, the indexes decreased for used cars and trucks, household furnishings and operations, recreation, and airline fares.
These numbers are only for the month of August, and leases should use the annual number. The all items index rose 1.1 percent for the 12 months ending August. The index for all items less food and energy rose 2.3 percent for the 12 months ending August. The food index was unchanged over the last year while the energy index declined 9.2 percent.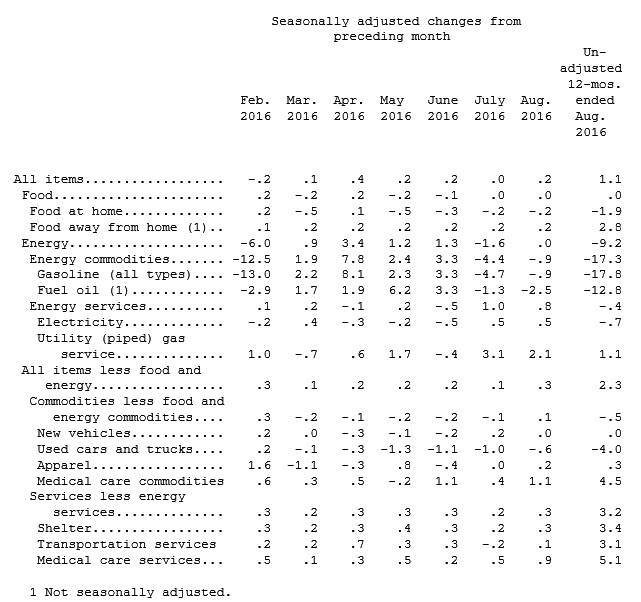 How Much Difference Can 1 Percent Make
Inflation is not what it used to be. In the 1980's the CPI approached 20% and the greatest economist alive said it was going to 25%. It went to 2%. Our economy today is driven by a different wage/price spiral and low inflation helps borrowers and hurts landlords and savers. Building in a CPI adjustment can still make a difference in a long term lease, as shown in the table below which compares a 1 percent CPI to a 2 percent CPI adjustment over a 25 year time frame. A 1 percent incremental rate increase annually results in $378,000 additional income over the 25 year span, and assuming a 10 percent Capitalization Rate, increases the market value of the property $338,000, or 33%.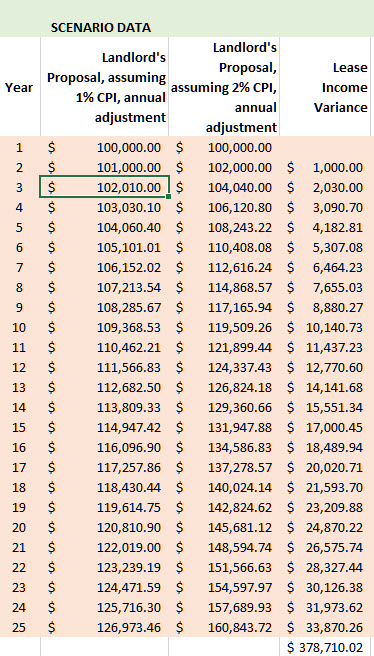 Summary
In leasing any type of property, whether you are the landlord or the tenant, make sure your lease is clear about what the rent is, and what inflation adjustments apply to the rent. Any lease document can be revised, even though some parties say they use a standard lease. There is no such thing. A lease is an agreement between two parties, and you should revise it to include language that works for you. As always, consult an expert.
---
Free Lease Consultation: If you have questions about a lease document, Louisiana Commercial Realty offers a free lease review, which includes an analysis of nearby rental market prices.
---
For more information on leases, read these articles published on our website:
Is 2 Years A Long Time To Take To Lease Property
9 Things To Know Before Signing Any Contract
Negotiate Contracts With Strength
Triple Net Leases For Dummies
---
The City Has A Process That Fosters Blighted Property
It's not a conspiracy, but the result is the same: New Orleans still has thousands of blighted houses. What it can be called is a dysfunctional system that created an organized effort that actually encourages blighted property, and uses your tax dollars to take away your tax dollars. The effect of thousands of blighted properties is two-fold: one, a loss of property taxes, which could be used to fund more police, fire protection and schools, and, two, a reduction in property values which takes money out of your pocket when you sell your property.
How big a problem is blighted property? It's underestimated. In my 15 years of working to put vacant property back into commerce, I estimate there are 20,000 to 40,000 blighted properties and vacant lots remaining that, if put back into commerce, would provide enough property tax income to triple the size of the police force. New Orleans could be known all over the world for almost eliminating crime.
Putting Vacant Properties Back Into Commerce Could Produce $100,000,000 in New Property Taxes-Which Department In The City Budget Below Would You Expand?
Not Fixing Blighted Property Stems From Policy of Mayor Ray Naquin
After Katrina, thousands of homes were in need of repair, so holding property owners accountable was a priority low on the totem pole.  Mayor Ray Naquin's administration would not allow fines for code violations on blighted properties. The mayor did not want to lose voters.
The fines would actually encourage owners to cut the grass and repair their properties, and, if not, allow the city to sell the property if went unpaid which would put the property into the hands of someone who would care for the property and revitalize the neighborhood. The city wins, the neighborhood wins, and the owner gets relief from maintenance they cannot afford and gets the money to put into things about which they do care.
Individual Rights of Property Ownership Were Denied in Order to Create a Public Good
This is one of the few things we expect government to do: make the world better for individuals by doing things that individuals cannot do, such as build a massive highway system from one coast to the other. We saw this process work in the 1956 when President Eisenhower signed the Federal-Aid Highway Act, a $500,000,000 highway rebuilding program that resulted in major highways across the nation. Traveling for vacation was easier, owning a home in the suburbs was affordable, trucking transportation costs declined, and goods got where they needed to go faster. In order for the government to build highways, they needed to force some private property owners to sell their property. Three appraisals were required so that the owner received a fair price.
The same process was utilized with property owners on Tulane Avenue, when the Veterans Administration and LSU hospitals were built and private property owners were forced to sell their property. Individual rights of property ownership were denied in order to create a public good. You want it to happen only in rare occasions, but it can work to make your neighborhood better.
One Example: Declared Blighted 6 Years Ago and Still Nothing Done
The Lakeview Civic Improvement Association back in 2009 deemed one house to be a problem. The house had no electricity, even 4 years after Katrina, and the foundation was crumbling in disrepair with gaping holes big enough for rodents to live and breed and threaten nearby children playing in their own yard. The owners lived in another state and had no interest in repairing the property, but did have the resources to hire an attorney and fight the city.
The Lakeview Civic Improvement Association has a process regarding blighted property, which starts with notifying the city by calling 311, the city's catch-all service number. A complaint was filed for violating city codes, and the Code Enforcement Department researched the issue. Code Enforcement officers visited the property and determined there were violations, then assigned a case number and a hearing was set to address the violations with the owners.  The blighted house has been inspected by Code Enforcement 5 times since 2009 and found to have a total of 37 violations, and none have been addressed by property owners.
2009-Hearing #1
On August 27, 2009, the first hearing occurred. The hearing took place at the Code Enforcement Department office at 1350 Poydras Street. Present were the hearing officers, 1 or 2 people who are employees of the Code Enforcement Department, looking out for the residents and enforcing the city housing laws. Also present were the homeowners or their attorney. There was a stenographer taking notes. At this first meeting, the hearing officer decided to "reset" the meeting, which means nothing happens and it is delayed. Everything is on hold to give the homeowner a chance to correct the code violations.
Hearing #2
Two months later, on October 14, 2009, the 2nd hearing occurred. Present was the hearing officer and the homeowner. The case was again "reset".
Hearing #3
Two months later, on December 16, 2009, the 3rd hearing occurred, where the hearing officer issued a conditional guilty decision but "reset" the hearing. The judge waived over $15,000 in accumulated fines.
2010-Hearing #4
Three months later, on March 11, 2010, the 4th hearing occurred, and the hearing officer determined the homeowner was guilty of code violations and fined $574 plus $200 daily.
2011-Sheriff's Office Now Involved
The property further fell into disrepair, with the owners refusing to pay property taxes, so the Sheriff's office put the house up for sale, since the City had imposed liens for code violations which went unpaid. The sale was stopped at the last minute.
2013-Hearing #5
The Code Enforcement Department finally assigned a case number # 12-07481-PNBL, after Code Enforcement found 5 code violations during an inspection on October 8, 2012. Almost one year later, on August 20, 2013, the 5th hearing occurs and an officer with the Code Enforcement Department determined the owners were guilty, fined them $575 plus $500 daily, and the property deemed a public nuisance and blighted.
2014-Hearing #6
After additional complaints by the Lakeview Civic Improvement Association and neighbors, a 2nd case number # 14-02430-MPM was filed by the Code Enforcement Department after an inspection on April 30, 2014, found 6 violations, and a 6th hearing granted which determined there was no work in progress and the case was closed.
Hearing #7
A 3rd case number, # 14-03102-MPM, was filed for 14 code violations, after a rodent living under the foundation attacked a child playing in her own yard. It turns out the owners were leaving food in their back yard for feral cats, which was also feeding the rodents. On September 4, 2014, a 7th hearing occurs where hearing officers determined the owners were guilty and fined them $1,694. On October 3, 2014, the property owners hired attorney Peter Derbes, who filed the 1st appeal #14-9692.
2015-Issue Goes To Civil District Court
On April 21, 2015, a 4th case number, # 14-09909-MPM, was filed by Code Enforcement for 2 violations but no hearing was set because the hearing officer said the case was under appeal. On May 28, 2015, property owner's attorney, Peter Derbes, filed a 2nd appeal, #15-5043. On September 25, 2015, City attorney, William Goforth, consolidated both appeals into a new hearing in Civil District Court. On October 1, 2015, Claudia Riegel, director of the New Orleans Mosquito, Rodent & Termite Board was notified by neighbors about property owners feeding rodents at the property.
2016-Hearing #8 and #9
An 8th hearing was scheduled for January 15, 2016 with Judge Kern Reese, Division L, but the hearing was rescheduled but no date set. On April 25, 2016, Code Enforcement inspectors found 10 violations and a 5th case # 16-01802-MPM was filed. A 9th hearing was set for June 16, 2016. The Code Enforcement officer had the authority to waive the daily fees, so the fines were reduced to $2,500.
Neighbors Attend a Hearing Only To Have It Cancelled
On June 9, 2016,  Code Enforcement noticed there are several verdicts and appeals and agreed if there is a judgment as a result of the hearing on June 16th that it might not move forward until the appeals are resolved. Code Enforcement agents agreed to contact the appeals department across the street to find out why the appeals had not been resolved. Once a judgment to foreclose is decided by a hearing by the city due to unpaid city liens, city attorneys would be responsible for proceeding to have the property auctioned off. On June 13, 2016, Cherrel Taplin, Senior Chief Deputy District City Attorney, emailed participants that a hearing was scheduled for September 9, 2016.
On June 16th, neighbors attended a 9th hearing at the Code Enforcement office, which was "reset" by code officers after discussing with Tammy Jackson, City Legal Advisor, because the owner's attorney, Peter Derbes, produced a copy of an email stating he had talked with a code enforcement officer and that the hearing should not take place. This was contrary to information provided to the attending residents and the hearing officer. Residents met with Chad Dyer, Director of Code Enforcement, to discuss the blighted property and why it was granted appeals. Chad disclosed that he did not know why the property was appealed but if it was because of a problem in the City's blighted process, it means the City has to give homeowners more than enough opportunity to fix the blighted property. Chad stated one significant issue occurred a few years ago and the cityy was found to be in violation of the blighted process and had to throw out 2,500 cases. He was concerned that if an attorney could prove the city's process was flawed, that the attorney could make the city pay his legal fees. Chad promised to research the reason for the appeals and reply to the residents. They never heard from him again.
Hearing #10
The two appeals were heard in Civil District Court under Judge Kern Reese, who ruled that the city had only notified one property owner, not all three, and dismissed $2,500 in fines.
Summary
Time since city was alerted: 7 years
Number of hearings: 9
Number of cases filed by Code Enforcement: 5
Number of violations: 37
Action taken by homeowner to fix violations: none